What to do in Kazan?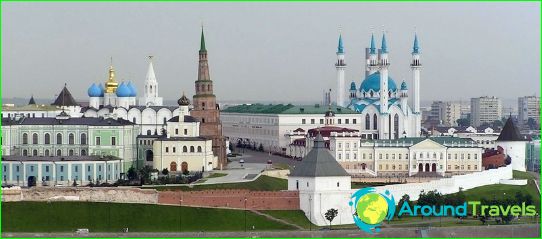 Kazan is famous for its architectural masterpieces, parks, theaters and festivals.
What to do in Kazan?
See the Kazan Kremlin;
Visit the Temple of all religions;
View Virgin Monastery and to see the icon of Kazan Mother of God;
Go to the Victory Park to watch the tanks, anti-tank guns, planes, howitzers and missile system.
Things to do in Kazan?
At acquaintance with Kazan, you will see the pearlKazan Kremlin - "falling" Syuyumbike Tower, National Museum of Tatarstan Republic, Farmers Palace, Millennium Bridge. And walking along Arbat Kazan - Bauman Street, you can see and be photographed against the background of the monument "Kazan Cat".
It is necessary to pay attention and Kul Sharif Mosque: in this beautiful Muslim temple let everyone (only tourists are not allowed to enter the prayer hall) - about to go inside, it should comply with the rules and dress appropriately.
Children will enjoy the Museum in TatarstanNatural History. It is famous collection of dinosaur models, skulls of saber-toothed tigers, mammoths skeletons ... In addition, the Museum has a collection of minerals, and on Sundays there are organized science show in which everyone can take part.
View musical performances designed for family viewing, it is possible in Kazan Youth Theatre, which also are the classic performances such as "Oscar and the Pink Lady".
Be sure to go "Kyrlay" in the park,to ride on a variety of attractions as well, to see the city with a 55-meter height of the booth ferris wheel, jump on the trampoline, play paintball.
Active tourists will find plenty of entertainment in Kazan - you can go to the water park, bowling center, equestrian clubs or paintball, go-karting center "Fast and the Furious."
At 20 km from Kazan there is an amazing place -Blue Lake (they really are colored in blue and surrounded by dense forest). Here you can swim and heals, as the lake has a healing power (cool waters have sulphate composition). Rest on the lakes and enjoy divers (it is promoted by the crystal clear waters of the lake).
Kazan Guests can visit the circus performances, horse races, fishing.
Photos you can go in Kazan