Metro Nizhny Novgorod: map, description, photos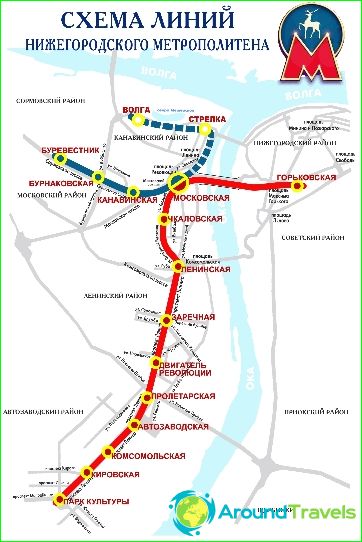 Metro Nizhny Novgorod was opened in 1985. This is the third underground in Russia. In the USSR, he was tenth.
Plans to build a subway in Nizhny Novgorodarose at the dawn Metrostroi when created subway largest cities (mainly capital of the Republic) of the Soviet Union, but really only in the autumn 1973 started planning goda.- Affairs headway when Moscow specialists were made to the project. However, there has not been without red tape - the first piles were driven into the Nizhny Novgorod Metro is only 4 years later. Now on-site construction began in the Lenin Station tunnel, you can see a memorial sign - it is from here began laying the first subway line. After 8 years after the start of construction of November 19, 1985 in Nizhny Novgorod metro has taken its first passengers. Nizhny Novgorod Metro shallow - only 2 metro stations have escalators.
By the beginning of 2013, the metro in Nizhny NovgorodIt consists of two lines - Avtozavodskaya and Sormovskaya and 14 stations, the total length of tracks - 18.9 km. The volume of passenger traffic of just over 100 thousand passengers per day.

Hours of Nizhny Novgorod Metro
Nizhny Novgorod metro is open from 5:15 am to 00:00 nights. Intervals of trains during peak hours are from 4 to 12 minutes depending on the line (the most loaded - Avtozavodskaya line in areas of Moscow station).

Directions to the Metro Nizhny Novgorod
Currently, (March 2014) as afare on the subway used tokens and tickets. In the near future, as part of the preparation of Nizhny Novgorod for the European Football Championship planned introduction of contactless cards, as well as the introduction of common ticket for all public transport. Children under 7 years old have the right to free travel.
Pictures of Nizhny Novgorod Metro