Nizhny Novgorod 1 day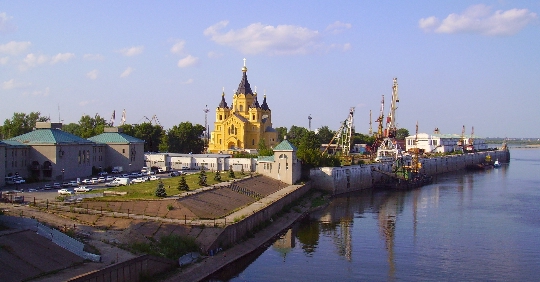 The first mention of Nizhny Novgorod is contained inwritten documents in 1221. Today the trading capital of Russia - one of the largest cities in the country, famous for the events calendar of the Nizhny Novgorod Fair. During the summer season the city approach the dozens of cruise ships, passengers who can see Nizhniy Novgorod 1 day and visit the most memorable historical place it.
Eight unique centuries
Its history is rich in events, each ofwhich is reflected in its current form. Located at the intersection of trade routes, Lower make a significant contribution to the state economy and became the center around which rallied people in hard times. The heart of the historical part of Nizhny Novgorod, which is quite possible to get around in one day - it is a territory of the Kremlin.
Built at the beginning of the XVI century, Nizhny NovgorodThe Kremlin carried out a defensive function. He was a real fortress, the walls of which stretch more than two kilometers, and 13 watchtowers allow timely see the approach of the enemy. Of the many temples that existed in the territory of the Kremlin, until today managed to save only Michael the Archangel Cathedral.
A stroll through the old town is best forBig Pokrovskaya street. It is pedestrian and originates from the area of ​​Minin and Pozharsky, who led the liberation movement against the Poles during the Troubles in 1612. Special features Great Intercession - a large number of bronze sculptures.
Temples Lower
Once more than 50 were opened in Nizhny Novgorodoperating temples. One of the most beautiful and majestic places of worship is Pechersky Ascension Monastery. It was founded by the monk Dionysius in the first third of the XIV century. The original buildings were lost in a landslide, and the modern part of the walls of temples in the monastery was re-built in the middle of XVII century.
No less famous Annunciation Monastery XIIIcentury, the construction of which was launched shortly after the founding of the city itself. From churches particularly attractive Smolensk, built at the expense of patrons Stroganov merchants. Facades Staroyarmarochny cathedral designed by architect Auguste Montferrand, who brought glory implementation of the project of construction of St. Isaac's Cathedral in St. Petersburg.
For friends and family
Souvenirs from Nizhny Novgorod will be a greata gift and an occasion not just to remember the beauty of the ancient Russian city. Products of local craftsmen is better to buy in the shops and stores on the Big Pokrovskaya street where you can meet the most wide range of diverse products.
Photo