Viewpoints Samara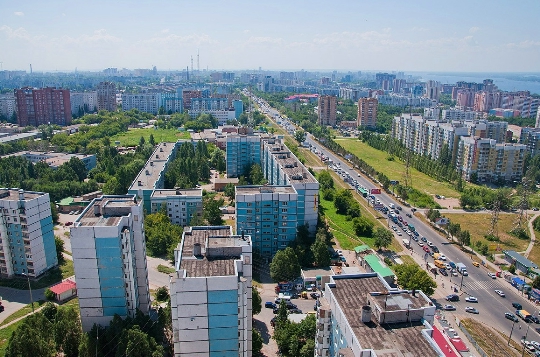 Samara at the disposal of guestswater park "Victory", Strukovsky garden, a 4-kilometer waterfront, equipped beaches and other recreational facilities. But seen from the height of splendor of the city, in particular, the monuments of ancient architecture, will enable viewing the Samara area.
Review of the best viewing points
"Vertoletka" (once a helipad washelicopter landing place, which belonged Kuznetsov aircraft designer): this is the best place to view in the Samara region, from where will be able to admire the magnificent scenery of the Volga, Samara, Sokol mountains. For guests on your own car parking is provided, which is paid only on holidays and weekends (on other days the gate is open) - entry to the car park will cost 50 rubles. In addition, in summer you can visit the outdoor cafe, and regardless of the season - the restaurant "Chanson". Before you take the destination route taxi number 210 or number 50 bus and you need to 1. Exit at the stop "Management", and then take a walk (address: Samara, etc. Management, street branching, 2A.).
Observation deck w / train station (height with a spire -101 m playground is made in the form of a large balcony): you will find it on the 4th floor. It is worth noting that enjoy Samara, Zhigulevsk mountains and the Volga guests succeed only as part of a tour group (tour, which costs 200 rubles on average, requires more and visit the Historical Museum). Address: Komsomolskaya Square, 1.
Landing stage-Restaurant "Old Wharf" -acting marina, with its own ships, which are adapted for all sorts of celebrations and parties: they will be able to ride at the same time enjoying the taste of chef specialties and views of the Volga expanses. So, wishing to offer the restaurant to go on a boat-restaurant (100 seats) in the 3-hour tour of the Volga (specify the route and book a table on board it is advisable to phone). Address: Ulyanovsk descent, 41
By late summer 2016 Gagarin Park (streetSoviet Army, 181 B) are planning to build a 50-meter high Ferris wheel (according to the project, it will consist of 24 private survey cabins with air conditioning and heating - including temperature will depend on the time of year), ride on which visitors and residents of Samara will be able to admire scenic views.
Photo