Excursions in Suzdal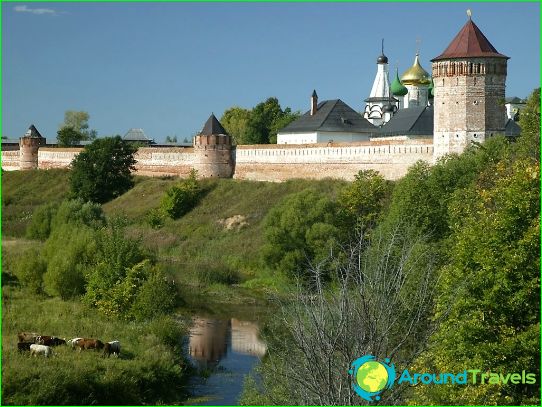 Day trips to Suzdal - a great option not only for family holidays, it is an opportunity unusual to spend your weekend with your friends, to plunge into the historical past.
Suzdal is considered the pearl of the Golden Ring, isa open-air museum. There are no railways, industrial complexes, and such familiar to us urban smog. To some extent, this is a fabulous place, a treasure trove of ancient Russian architecture, which covers the whole eight centuries. There are many famous movies filmed "Bal'zaminova Marriage" (1964), "a hunting accident" (1978), "Magicians" (1982), "Peter the Great" (1985, USA) and many others.
Suzdal - the cradle of the monasteries and temples
This city is considered one of the most famousRussian Orthodox centers. It survived more than 200 monuments: Spaso-Efimevky Monastery, Nativity Cathedral, Pokrovsky Monastery, and Alexander Vasilevsky Monastery, Kremlin with Cross Chamber of Commerce and many more. Suzdal find sanctuary even pre-Petrine Russia.
Today, the city has four activeMonastery. The tour program includes a visit not only the monasteries, temples and where you will be able to venerate the relics of Mother Sophia of Suzdal, Suzdal Saints John and Theodore, and many other saints.
To the maximum plunge into the atmosphere of the city, tourists are offered sightseeing tours in Suzdal. There are several options of the program:
City tour with a visit to the three functioning monasteries.
Excursion on horse-drawn carriage.
Travel around the city with stops at all the observation deck of Suzdal. Tour of the complex of buildings of Michael the Archangel Church.
You can also visit the Pokrovsky monastery, which is also called "white swan" Suzdal. This convent is considered one of the most beautiful places in the city.
Very popular in Suzdal arebell. The tour, which will plunge you into the world of bells carried by these ringers. They not only tell you about the historical facts and interesting events, but also perform a concert of bells. You too will be able to strike the bell, climb the tower. This excursion lasts only 40 minutes, and it can be included in any program.
Photo excursions in Suzdal