Viewpoints Tyumen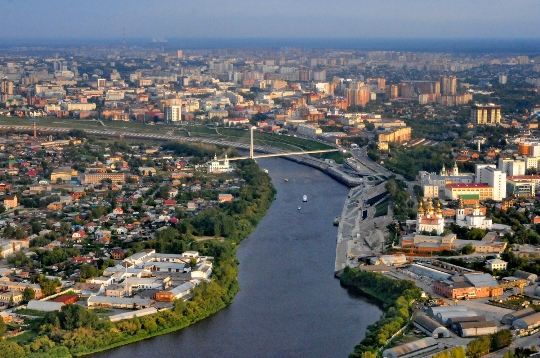 Tourists who have made the rise to the observation deckTyumen, will be able to admire from the height of Holy Trinity Monastery, Church of the Saviour, home Averkieva (decorated with intricate balconies) and other entities, in particular the 19th century (Republic Street).
"Bridge of Lovers"
With this cable-stayed bridge vacationers admiringmagnificent view of the historical part of Tyumen (on the one hand you can see the wooden buildings since the beginning of the development of Siberia and on the other - modern buildings of stone). It is worth noting that there are hours, and in addition, the bridge is a meeting place and walks (in the evening lights are incorporated herein).
Address: Coast street, 83.
Waterfront Tours
Its unique feature - the presence of 4 tiers(Total height - 24 m levels are linked by ramps and stairs, used as decoration flower beds and green areas, a fountain, waterfall, bas-reliefs and sculptures), and 3 and 4 are equipped with observation platforms, allowing to enjoy the water surface. In addition, on the waterfront coming to ride a bike and take a morning jog.
Location: Republic Street
Laser Tag Arena "Laser Force"
In addition to the labyrinth, an area of ​​over 250 square meters, it has a viewing platform about 3 meters high Address:. SEC "Panama" (3rd floor), 2nd Meadow, 30.
Panoramic restaurant "7 sky"
The restaurant (open from noon to 02:00) Russian and European cuisine gives guests a panoramic lift, opening to them the beauty of Tyumen bird's-eye view (hence, many visitors prefer to admire the solemn procession and fireworks, arranged within city holidays). In addition, the restaurant invites you to a themed party - guests will have an interesting program and menu corresponding to the specifics of the event.
How to get there? We must take the public transport to the hotel, "Tour" (a restaurant located on the top floor), located poulitse Melnikaite 103a (20 meters from the hotel Tyumen Technopark).
Tyumen gorsad
In here you should appear soon morethe best attractions that allow visitors to enjoy the beauty of the city from a height - they will wear the following names: "chain-carousel" (height - 42 m); "Ferris Wheel" (height - 60 m).
How to get there? It is necessary to get to the station "Color boulevard" on the shuttle bus number 71, 66, 12, 66, 82 or bus number 17, 25, 14, 1, 11, 54, 48, 30 (Address: Tsvetnoy Boulevard).
Fire tower "White Tower"
It is worth noting that in the 19th century fire-tower"White Tower" (address: Osipenko, 35) was used as a viewing platform (fire seen from a height, whether somewhere in smoke or fire), and plan to make the restoration of the building in the near future and to make a platform for the review, with which the inhabitants Tyumen and guests will be able to admire the beauty of Tyumen.
Photo