Viewpoints Ufa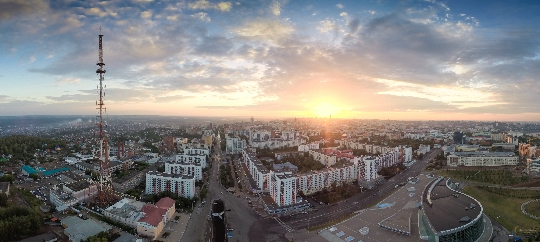 Places are on a hill, and inspectionUfa area not labeled so visitors to the city will be interesting to find out about places that allow the height to enjoy the local attractions.
SEC "Planet"
Offers - mounted on the roof of the buildingpanoramic binoculars with a 25-fold increase, in spite of which, will be able to see the beauty of the surrounding nature and Ufa. Sample prices for the use of binoculars: 2 minutes - 50 rubles; 5 minutes - 100 rubles.
How to get there? It is necessary to get to the stop "Street of Enthusiasts" by bus number 260 or 244, or the bus number 16 (Address: Enthusiasts Street, 20)
120-meter springboard
It should come at any time of the year, according tothe morning to admire the sunrise and in the evening - the sunset. In addition, this place will be able to watch the training of athletes and opening views from a decent height.
How to get there? Here you take public transportation (eg, bus number 269 or the bus number 69) - you need to get off at the "Springboard", and then pass on a path in the woods (address: Mendeleev).
Olympic Park
The park, being in a forested area, implies the existence of beautiful views; then there is a ground for review, allowing to enjoy nature, watch the sunrise and sunset conduct.
Travelers recommend a ride onlifts (1 ascent costs 50 rubles) and equipped trails, renting pre-necessary equipment, spend time in the ropes course "Gummy", a glimpse into a cafe-bar "108 Dummies", where they popotchuyut European cuisine dishes in the tandoor, barbecue over charcoal , draft wines.
Address: Mendeleev Street, 201b.
Monument to Salavat Yulaev
Hence, from the lookout, will be able to admire the railway bridge and the river Belaya, to see the mouth of the Demos and the water tower. Address: Vorovskogo street.
City playground in Victory Park
Since the park is located on a hill, thereVisitors will find the best site for a review of the entire city. Taking a walk in the park, you should look into a museum of military glory, the exposition which offers a look at the interesting exhibits, in particular, the Soviet tanks T-34 and T-55. Address: Komarova Street, 7.
Ferris Wheel "Iremel"
Decided to "test" this attraction (it closedcabins rescued from the weather; they are cooled in the summer, and in winter - heated), a height of 58 meters, will be able to see Ufa, at a glance. Address: Mendeleev Street, 137; Ticket cost - 150 rubles / adults, 100 rubles / children; link to the website: www.ufa-coleso.ru
Another good news for fanspanoramic views - 2017 in Ufa are planning to build a 42-storey building, the roof is equipped with observation platform (here the tourists will deliver a special lift).
Photo