Yekaterinburg Metro: map, description, photos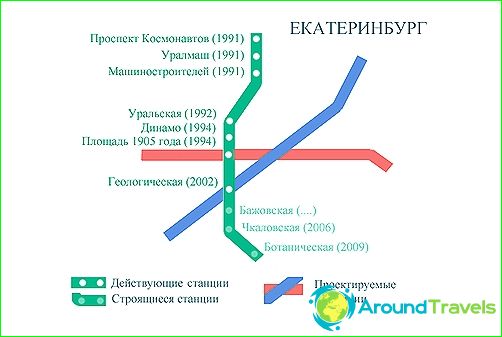 Yekaterinburg Metro consists of 9 stations and connecting them in line. This is the sixth in a row subway in Russia and the 13th metro Soviet Union. Ekaterinburg metro subway was the last in the country.
Despite the fact that the first metro projectsrelating to the 60 th year, includes the construction of two lines at the time of construction in 1980, plans have changed dramatically - already in the first stages it became clear that the project implementation rates exclude the possibility in the coming years to build two branches. First of all, the rapid construction of disturbed terrain requiring work at different depths. For this reason, the subway station in Yekaterinburg different deepness and are found as deep underground, and close to the surface. Initial terms of opening the subway moved several times. And as a result, scheduled for 1987 opening of the Metro, it took place only in 1991. April 27, the day after the inauguration, began passenger services. In the first phase of the train station served by three, after 5 years, their number has doubled, the last station was built at the beginning of the new century.
In the future, Yekaterinburg metroconstruction of a network of three lines, forming a triangle with the stations direct in the city center. The total length of the network lines will be more than 40 km, number of stations - 39.
The architectural appearance of Yekaterinburg subway line with the general Russian, in its creation was attended by project organizations of Kharkov and Yekaterinburg.

The fare on the subway in Yekaterinburg
The fare on the subway Yekaterinburg madeusing tokens. Since 2009, in addition to tokens in Yekaterinburg subway system was the "city of Ekaterinburg Transport Card" - EKARTA that allows public transport passengers use the city replenished contactless smart cards for fare payment. Children up to 7 years in Yekaterinburg metro are entitled to free travel.

Hours of Yekaterinburg subway
Metropolitan Yekaterinburg works with up to 6-0000-00. Last trains: from "Cosmonauts Prospect" station at 00:03, with the "botanical" station at 00:06. Intervals of trains in the subway Yekaterinburg on weekdays between 4 minutes during peak hours to 7-11 minutes at other times, on weekends - from 8 to 11 minutes during the day.
Photos of Yekaterinburg subway