Ekaterinburg Viewpoints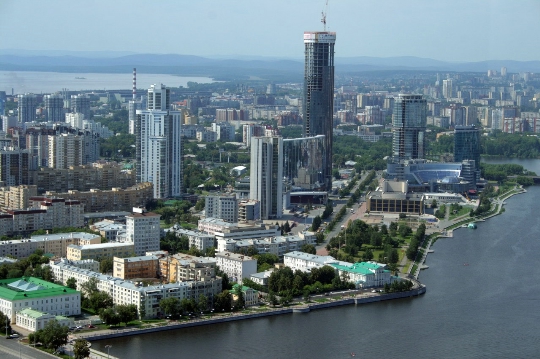 Viewpoints Yekaterinburg allow visitors to the city with an unusual angle to admire the architectural buildings, domes of churches, the Ekaterinburg highways ...
Review of the best viewing points
Business center "Antei": to visit the site (open from noon to midnight), located on the 22nd floor (height - 76 m), it is appropriate to allocate a free evening to admire plenty of night city. Here you can take a picture on the background of the sculpture "The Cat" (according to accept to come to pass his plan, you need to make a wish, hand in sculpting the head, then throw a coin over it). Address: Krasnoarmeyskaya street, 10; ticket price - 50 rubles.
Skyscraper "Vysotsky": Playground is located on the 180-meter height (you can visit from 10:00 to 22:00; the opportunity to visit the night, with the ticket price will rise to 500-600 rubles). It's worth noting that at the entrance to the skyscraper offers free hand equipment "Radio Guide" (do not forget to remind this service personnel), which "tell" them about the history of Ekaterinburg and its environs. Ticket price - 300 rubles / adults, 150 rubles / pensioners and 6-12 year-olds. If you wish, you can stay on the floor, located above the observation platform - such a pleasure will cost 3500-5500 rubles / 1.5 hours (room for two persons, extra charge for children or friends - 500 rubles). Address: Malysheva street, 51.
Meteogorka: is the highest in Yekaterinburg point where you can climb for free at any time of the day - with views over the central part of the metropolis (on the east side of the park is located, which is particularly pleasant to walk, comfortably fitted in the gazebo and organize photo-session in the summer and autumn months ). It is necessary to get to the stop Decembrists tram number 10, 6, 9, 3, 20; landmark - building Roshydromet (address: the People's Will, 64).
Temple on blood: to get the opportunity to see the city with a 30-meter height, you need to pay $ 100 and to follow the guide (he will tell you a fascinating story and will offer to inspect the temple shrine - the icon of the Mother of God and exhibits that "talk" about the last days of Nicholas II). Address: Holy Quarter, 1.
The top of the mountain Uktus: summer is recommended to have a picnic and pay attention to the types of the southern outskirts of the city, and in the winter - skiing. Climbing the mountain - free, a fee you will be charged only if you decide to rent a gazebo where you can eat barbecue (2000 rubles / 4 hours). Address: Street Winter, 27.
Another pleasant way to enjoy Yekaterinburg - a ride on the Ferris wheel in the park Mayakovsky (address: Michurina, 230; adult ticket costs 80 rubles, children - 50 rubles).
Photo