Independent travel to Ekaterinburg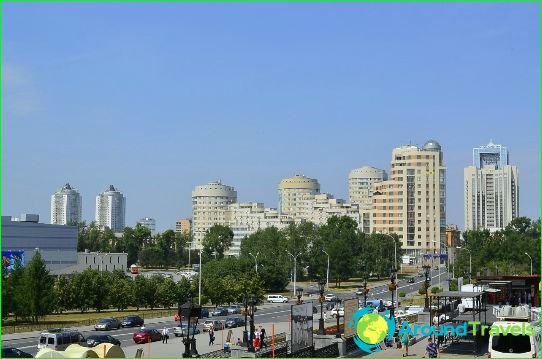 "The third capital of Russia", Ekaterinburg - not onlya major industrial center of the country, but also the city where carefully preserved historical past. Traveling in Yekaterinburg will meet with the Urals and to answer the question, where is the border between Europe and Asia.
When to go to Ekaterinburg?
Weather in Yekaterinburg depends entirely onruling is temperate continental climate. The best time to visit the capital of the Urals - the summer months when the temperature can rise up to 27 degrees, and almost every day - sunny. Winter town welcomes visitors these frosts and ornate Christmas streets and squares, and therefore independent tour in Yekaterinburg in the winter holidays - a great way to relax and gain strength.
How to get to Ekaterinburg?
The city's airport receives many flights from theMoscow, St. Petersburg and other Russian cities and abroad. Flight time from the capital is about two hours and the trip from there by train takes just over a day.
Getting around the city much easier availability of the metro, which is not only convenient, but also beautiful. His finishing used semi-precious stones mined in the region.
housing
Stop in Yekaterinburg can be in any of thecity ​​hotels, the prices of which vary depending on the level of the hotel. Most have luxurious 5 * on the facade and a price tag comparable to the cost of living in the best European hotels. For travelers who prefer not to spend the extra money for the night, there are options to stay in apartments or rooms for rent, which is much cheaper, and sometimes more convenient.
Argue about taste
Cafés and restaurants offer guests Yekaterinburgthe city of the traditional Russian cuisine and dishes based on recipes from different countries. The cost of lunch can put a very small number, if prefer small cafes and restaurants away from the main streets. In Yekaterinburg, like any city, immutable rule: the simpler the interior and less advertising, the lower the price, and, oddly enough, delicious.
Cognitive and exciting
Shartashskaya stone tent - rockeducation, which is not less than 300 million years to lovers of natural attractions. Dozens of museum exhibitions to attract the attention of tourists who are fond of local history and the history and monuments of architecture XVIII - XIX centuries talk about the past, wonderful city, named after the great Russian empress.
Photos trip to Ekaterinburg