What to do in Yekaterinburg?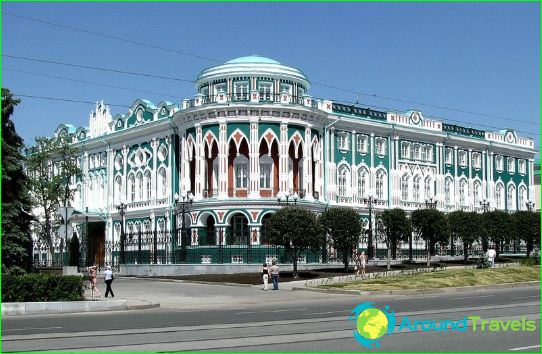 Yekaterinburg - cultural city, famousits monuments (600) and museums (30). Here are such unusual monuments as "Claudia" (dedicated to the computer keyboard) and a monument to the invisible man.
What to do in Yekaterinburg?
Walk around the historic square, where the buried time capsule (vskroyut it in 2023);
To go to the manor Rastorguev-Kharitonov to admire the palace and park ensemble;
Visit a place where the royal family was executed Nicholas II (the place is in front of the Ascension slides);
Take a walk along the paths, ride the rides and just relax on a bench in Central Park of Culture and Recreation.
Things to do in Yekaterinburg?
Introduction to Yekaterinburg to start withcity ​​center: on Plotinka can walk with friends or stay at a local lawn with a book in his hands. Lovers of culture can visit the Ekaterinburg Opera House, or Academic Theatre of Musical Comedy.
Families with children should stay the course in the zoo, a circus, a water park "Limpopo" Wonderland Park "Galileo", the park Mayakovsky, Ural farm "Krokodilvil" Butterfly Park, in the "Aqua Gallery".
Couples can go for a leisurelywalk in the park (Arboretum, Victory Park, Green Grove), in a bar, a nightclub ( "Sity", "INK") or a movie ( "3D Megapolis"). Spend time in a romantic atmosphere possible and Kharitonovs garden: there is an artificial pond, overgrown with old trees, elegant garden furniture rotunda.
Nature lovers can go to the Green Grove Park, or "stone tent." Going to the city pond, be sure to rent a catamaran or a boat, and to go to the river walk.
Arriving in Yekaterinburg in the winter, be sure to call in the local ski resorts. It offers - Mountain Saw, Yezhov and Volciha. In the summer and autumn schedule is a walk in the woods.
Extreme tourists enjoy in the Palaceteam sports - they can take part in competitions in basketball and volleyball, mini-football matches, as well, to see how playing professional athletes.
Resting in Yekaterinburg, you will be able to see all the sights and visit the interesting and unusual places!
Photos you can go in Yekaterinburg