Excursions in Ekaterinburg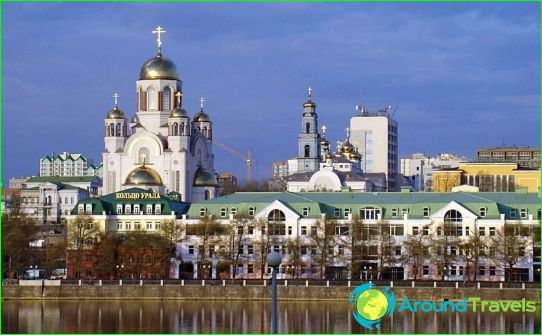 You want to learn more about Ural? In this case, numerous excursions in Ekaterinburg deserve your attention, because they allow you to get acquainted with the "third capital" of Russia.
special Yekaterinburg
Year of foundation of Yekaterinburg, which acquiredknown as the capital of the Urals, it became 1723. Many people refer to the city of Sverdlovsk, after the historical name of the acquisition took place only in 1991. Tourists eager to begin acquaintance with the Urals from here. Currently Ekaterinburg attracts the beauty of nature, because it is located on the bank of the Iset river, and the architecture of XVIII-XIX centuries.
Yekaterinburg Attractions
So, what should be excursions to tourist trip memorable with the best hand? What are the attractions worthy of your attention?
Alexander Nevsky church isthe main cathedral of the Novo-Tikhvin female monastery. Construction accounted for 1812. Council was able to maintain an amazing beauty. However, in the Soviet years the interior has been radically changed. For a long time the nature of the department was located at the Cathedral of the Sverdlovsk regional museum.
White water tower was built in the earlyXX century. This unusual attraction is different composition, consisting of two geometric figures. Importantly, one piece is in the form of a cylindrical tank, while the other - in the form of a parallelepiped vertical direction. The tower is the best representative of the style of constructivism.
Zheleznova Manor is a building,made of red bricks. Year of construction began 1895. From the outset, the manor attracts people's attention unusual style, which is a variation on the theme of modernity of ancient architecture. Currently, the building houses the Institute of History and Archaeology, but manor Zheleznova remains popular with many travelers.
Ekaterinburg Museum of Fine ArtsIt allows us to understand how remarkable the work of many talented artists XVIII - XX centuries. Take advantage of a unique opportunity to see paintings by Shishkin, Kandinsky, Malevich and Savrasov.
Stone tent, located nearYekaterinburg, are rocks whose age is about 300 million years. Archaeologists say that it is carried out in the territory pagan sacrifices. Located Shartashskaya unusual monument in the forest park.
Photo excursions in Ekaterinburg