Viewpoints Belgorod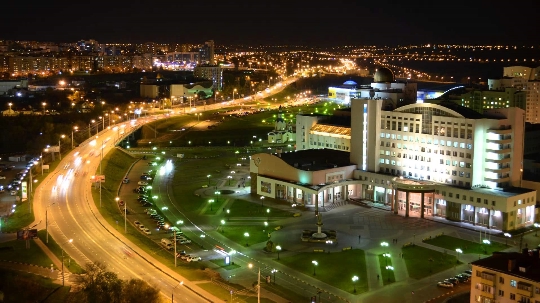 Viewing platforms allow guests to Belgorodthe city from an unusual angle to admire the varied landscapes, temples and cathedrals (Assumption Nicholas, Archangel Gabriel, Nicholas Ioasafovsky), original monuments (such as the monument to the honest policeman), and the monument erected in honor of well-known personalities.
The observation deck near the monument to Prince Vladimir
The height of the monument - 22 m; and situated in front of him with one of the best survey sites will be able to admire the panorama of the northern and central parts of Belgorod. Address: Avenue Vatutina, 1d.
Panoramic restaurant "Mezzanine"
The restaurant is housed in the complex "Mega Grinn" (6th floor), it allows visitors to enjoy both Italian cuisine, the best wines and panoramic views of Belgorod.
How to get there? You can use the services of taxi number 43 (address: Avenue of Bohdan Khmelnytsky, 137T).
Ferris wheel
Panorama Belgorod will be able to admirea 35-meter-high (especially the views at sunset and dusk, when the city lights up illumination), a ride on the attraction (of 39 cabins, each of which can accommodate up to 6 people, a ticket costs 100 rubles), located in the park named Lenin.
In addition, the park offers otheramusement ( "Swans", "Vortex", "Turntables", "Hip-Hop", "Ranger"), walkways, cafes, airsoft shooting range, rope park, children's playground, rollerdrome.
Address: Ostrovsky st, 20; link to the website: www.belpark.ru
Other viewing platforms town
The following objects appear as alternative viewing platforms Belgorod:
Cross near the car market: alternative platform for viewing is located on top of the White Mountain near the cross - hence invited to admire the chalk mountains and the sculpture "Stonemason". Address: find the object succeed at the intersection of Student and Chalk (here you will take public transportation, driving on routes number 115 and 39, situated near the temple of the Holy Trinity).
Baltic State Technical University named after Shukhov: observation deck on campus is an example of improvement with inclines and landscaping elements (here direct wishing to enjoy a unique view of the city). Address: Street Kostyukova, 46.
Parking near the cemetery (Railway Street): even if you do and there will be some fears, they should be discarded, and to explore the panorama of Belgorod.
The residential complex "Silver Horseshoe": here a chance to see the central district and city beach Belgorod (the higher the climb, the larger species will open your eyes). Address: Street Akademicheskaya 23a.
Photo