What to do in Belgorod?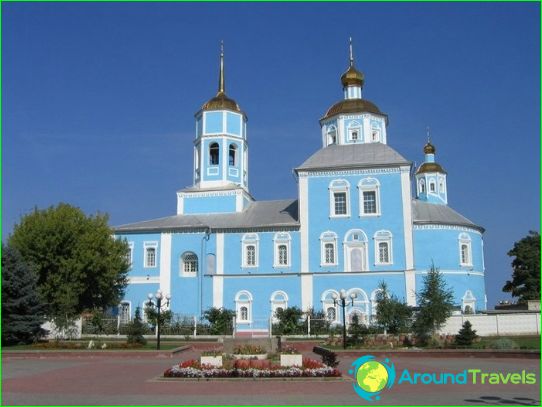 Belgorod is famous for its tourist attractions - the ancient temples and the latest high-rises, museums, monuments and sculptures.
What to do in Belgorod?
To visit the wooden church - the Church of Saints Faith, Hope and Charity and their mother Sophia;
See old Smolensky Cathedral;
Look on the bright decoration Belgorod - Sundial (they are installed at the National Boulevard).
Things to do in Belgorod?
Walking around the city, you can see the monuments withthe image of a cat and a janitor, a traffic cop, holding a striped rod grandmother who knits socks. Walking through the Museum Square, you can see the beautiful fountain Belgorod - "Salute" (in the evening it is illuminated illumination).
You can take a stroll through the streets of the Transfiguration: here you can see the house of the merchant Selivanov and go inside - there are open two museums devoted to electricity and literature.
Arriving in Belgorod, you should inspect the Intercession Church and the remains of Nicholas monastery.
One should go to the Botanical Gardens to see the magnificent landscape ensemble with different natural areas and the richest plant collections.
Going in Lenin Park, you canto relax in a wonderful place: there are lawns, gardens, live fences, attractions for children and adults, a shooting gallery, stereokinoteatr, roller skating. A weekend in the park organize various entertainment events, including concerts of Russian stars.
Children should take in the children's center "Tropicana" -enchant young visitors figurines of cartoon characters that adorn the center of the courtyard. Children are waiting for animators, games, contests, soap bubbles, children's disco, akvagrim, festive table.
Find entertainment in Belgorod will and activetourists. So, you can go to the motorsport complex "Bend", where you can go karting, paintball clubs (in the city of their 5), on the ski-roller track (here you can go skiing and rollerblading).
Recreation Belgorod involves not only local tours, but also active sports, which will charge you with energy and will give an unforgettable experience.
Photos you can go in Belgorod