Excursions in Krasnoyarsk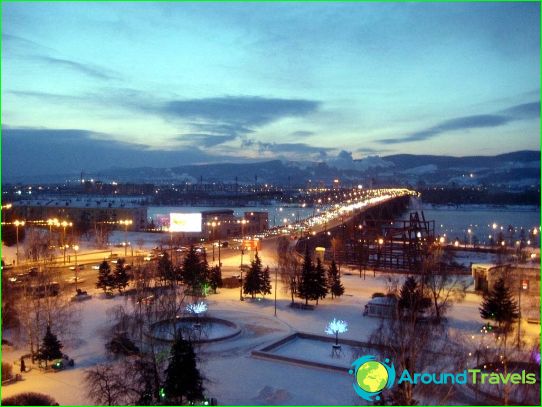 Krasnoyarsk - one of the most attractiveRussian cities for tourists. Excursions in Krasnoyarsk let you know the interesting history of Russia and see the beautiful architecture, which has been preserved in perfect condition by now.
Sightseeing tour
You want to know the past, present and futureKrasnoyarsk? This feature you will have! Sightseeing tours in Krasnoyarsk include a walk on the spit, the historic center, where in 1628 was founded a military settlement-jail. Tourists can admire the museum steamer "Saint Nicholas", see the monument "White Horse" and enjoy a walk in the area of ​​love, on which the sand Steam Clock. During the excursion you will see a panorama of the hill Kum-Tighe, which is also known as guard the mountain. In the compulsory program includes visits to the chapel of Paraskeva. Such intense walk will allow to meet with Krasnoyarsk.
The famous Krasnoyarsk?
Monuments.
Krasnoyarsk is famous for its numerous citysculptures. A special place is occupied by the monument "Uncle Yasha and intern", which in 2005 recognized the most fun in the whole of Russia. In the center of the city lies on the pavement ten-bill, known as "Our ten".
Fountains.
In Krasnoyarsk, more than 150 fountains. The biggest recognized "Rivers of Siberia", is located on Teatralnaya Square. At this point, to the Yenisei embankment down stairs in the center of which there are figures depicting the seven rivers flowing through the territory of Siberia. Many couples in love tend to go next to the fountain "Valentin and Valentina". Without a doubt, the sights of this category should be to get to know!
Parks.
Krasnoyarsk is famous for its numerous parks,ideal for a busy holiday with locals and tourists. The most famous was Karaul'naya mountain, on which there is an old chapel of Paraskeva. In good weather, the object can be seen from any point of Krasnoyarsk. On the mountain is Karaulnaya deck, which offers a beautiful panorama and the gun fires at noon.
Reserves.
The reserve "Pillars" attracts both localresidents and tourists alike. This park is surprisingly beautiful. The reserve "Pillars" is located at a distance of three kilometers from Krasnoyarsk, on the right bank of the Yenisei. Here you can see the unusual rock and the zoo, take a walk along the pedestrian path.
"Swarms Creek" - the park flora and fauna, which is inhabited by animals and birds representing Africa.
The trip to Krasnoyarsk can give a lot of pleasant experiences!
Photo excursions in Krasnoyarsk