What to do in Krasnoyarsk?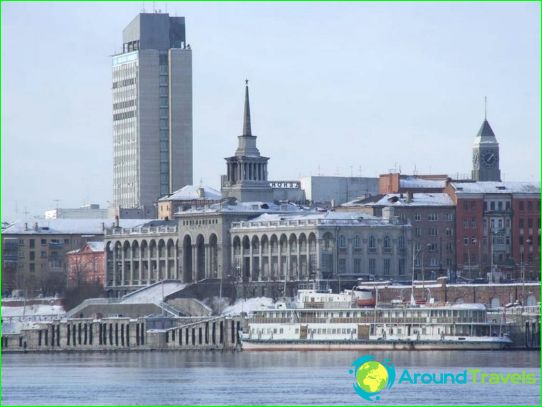 Krasnoyarsk is famous fortifications and defensive structures, built many years ago, as well as bridges, parks, museums, squares, fountains, unusual floral sculptures.
What to do in Krasnoyarsk?
See Chapel Paraskeva;
See Krasnoyarsk Eiffel Tower (this attraction - a complete copy of Paris, only 21 times less);
A stroll along the promenade of the Yenisei River and sit on the "bench of lovers";
To visit the "Saint Nicholas" museum-ship;
Walk through Vynohradiv bridge (length - 550 m) and to make great photos, because the bridge opens beautiful views.
Things to do in Krasnoyarsk?
The city has 150 fountains, but not necessarilyshould walk up to the largest of them - cascading fountain "Rivers of Siberia." You can find it in the city center at Theater Square. A loving couples should reach the fountain "Valentin and Valentina".
Visit the museum, you can see the ethnographic, archaeological, natural science and paleontology exhibits, as well as correspondence and records of the Decembrists.
Wishes to see the largest and most beautiful zooin Russia, can go to the Park flora and fauna "Swarms creek" - is home to 2800 animals, including animals imported from the African continent. The whole family can relax in Central Park Krasnoyarsk - there is a mini-zoo, children's rides with the railway, pedestrian area for walking.
With children, you can go to the Krasnoyarsk Territorypuppet theater, Krasnoyarsk musical theater, children's theater, "Dream," an amusement park "Cosmic" (here there are slot machines, rides, video games), a family entertainment center "Lunomania" (there is a baby area, swimming pool with balls, swings, slides, playhouses).
Active travelers should go to the racetrack Krasnoyarsk, Krasnoyarsk underwater center (you will have the opportunity to swim with scuba diving), paintball club "Arena".
Krasnoyarsk Business Card - Reserve"Columns". Take a tour of this reserve, you can enjoy the magnificent nature, fauna, rocky terrain. The reserve is famous for its rock formations with bizarre shapes and names ( "Feathers", "Lion's Gate", "Chinese wall"). In the reserve "poles" and fans will enjoy skiing - there is a special track. In addition, you can conquer the local rocks, taking up an extreme sport called stolbizm.
In memory of Krasnoyarsk, it is advisable to buy a birch bark crafts depicting the types of Krasnoyarsk, cones with pine nuts, a variety of figurines made of wood.
Rest in Krasnoyarsk will allow you to experience the great feelings and emotions, which are so lacking in everyday life.
Photos you can go in Krasnoyarsk