Viewpoints Krasnoyarsk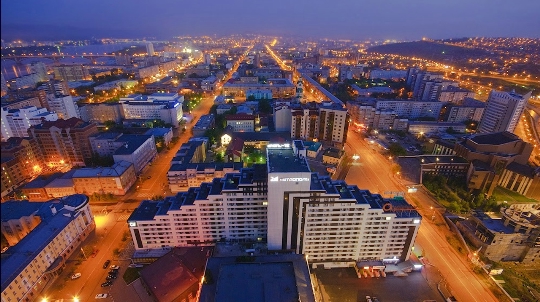 Krasnoyarsk, not just to win in the "Bestcomfortable Russian city ", is able to please their guests not only 22 12 museums and parks, and spectacular panoramic views (to the service - viewing platforms Krasnoyarsk).
Review of the best viewing points
Karaul'naya mountain: standing on a kind of "balcony" (it is surrounded by a metal fence, and around the planted colorful flowers), you will be able to admire the Chapel of St. Paraskeva (it is shown in the 10-ruble Russian banknote; chapel outline can be seen even from a distance), and almost the whole city, especially its the historic center. Address: st Stepan Razin.
Funpark "Beaver Log": platform for the review can be found at the top of the chair-chair lift K1 is (the way takes about 7 minutes) - from there on the one hand, you can survey the Krasnoyarsk, and on the other - the endless forests (see the neighborhood may be due to the powerful binoculars). It is worth noting that at the top you can enjoy a fragrant barbecue and other dishes in the tent bar "Vibram", and wishing to enjoy the taste of herbal tea and natural sweets, tea should look for the yurt (located to the left of the elevator). Cost of 1 ascent and descent by cable car - 270 rubles / adults, 170 rubles / children. Address: Street Siberian, 92.
Park named after May 1 (Leninsky district): to go to a small observation platform overlooking the Yenisei, it is necessary to pass through the central alley. And if you want to stay at the singing fountain, "performing" classical works.
Lookout - footbridge
This bridge, which connects to Central ParkYenisei embankment, wishing to rush to photograph scenic views (there are staircases transitions in a frame of white massive railing; the observation deck crowning colonnade). How to get there? Take the bus to the stop "holiday island" or "Opera and Ballet".
The observation deck "King-fish"
This popular holiday destination has settled oncliff (its height - 300 meters) - here you can see a statue of a giant fishes (it is considered a good omen to touch the fish mustache and throw a coin at the foot of the statue when making pre desire to return here again), weighing nearly 300 kg, as well as admire the Yenisei and its surroundings.
It is worth noting that it is planning to buildwatchtower (according to the drawings of architects of the 17th century) with a guard post at the top, a cafe (guests will be treated Siberian kvass and mead) and the exhibition and sale of souvenirs - at the bottom. Address: Sliznevsky cliff.
Photo