Novosibirsk Subway: map, description, photos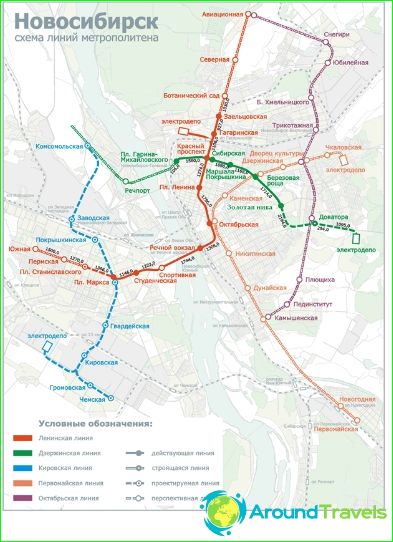 Metro in Novosibirsk began its work 28December 1985. This is the fourth in the Russian underground, and at the same time unique in its Asian part. Novosibirsk Subway ranks third in Russia in terms of passenger traffic.
The first mention of the subway in NovosibirskIt appeared in one of the city's master plan development of 1954. After 8 years, the question was raised again - Novosibirsk became a city of a million people. This meant that the city could claim the construction of its underground. But the order to develop a metro project entered the company profile only in 1968. The plan was prepared and approved in 1970. However, in 1974 he was again revised, and finally approved only in 1978. The construction, which lasted 6 years, began in May 1979. December 28, 1985 Metro in Novosibirsk was made by the state commission, and the first passengers began at Christmas 1986.
Currently, Metro is Novosibirsk2 and a line 13 stations. The total length of the routes - a little less than 16 km away. By March 2012, the Novosibirsk subway system carried more than 2 billion passengers. The average number of passengers - approximately 90 million passengers per year

Hours of Novosibirsk metro
Metropolitan Novosibirsk open from 06:00 until 00:00. Interval of trains during peak hours of 1-2 minutes, from 2 to 13 minutes at other times.

The fare on the subway in Novosibirsk
For fare in the Novosibirsk subwayTokens are used, as well as reloadable card: "United Transport Card", "social discount card", "student card" and "student card". How to get children to 7 years - free of charge.
Photos of Novosibirsk metro