Novosibirsk Viewpoints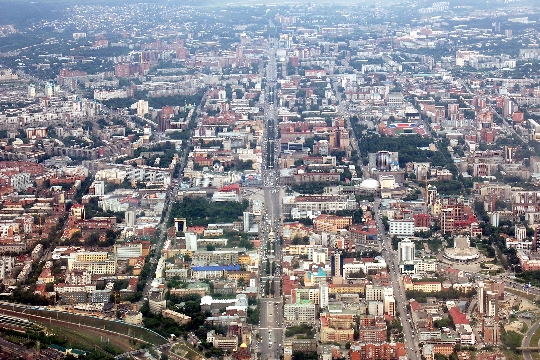 Guests will be able to see the city from a height100-apartment building, Akademgorodok, Alley bards, Globe Theatre (building stylized sailing boat) and other objects (to their services - viewing platforms Novosibirsk).
Hotel "Gorskiy City Hotel"
He has one of the best viewingsites, located on floors 21-22 (it is part of a two-level Presidential Suite; then a beautiful view of Novosibirsk, allowing guests to enjoy the gentle sunrises and sunsets velvet, as well as fireworks, organized in honor of the city celebrations), as well as a restaurant, where guests It offers dishes from the chef.
Lovers are invited to spend in the openterrace photo-session (cost - 2500 rubles, for honeymooners, special tariff for a photo session worth 1500 rubles). If you decide to organize a romantic dinner, during which will be able to admire the twinkling lights in the metropolis, then the service will cost you 3,000 rubles / two-hour rental site + the cost of dinner (venue - an observation deck on the 22nd floor).
How to get there? From w / d or bus you need to get to the stop "the Mountain" on the shuttle bus number 4 or 1212; and from the airport "Tolmachevo" - to stop Karl Marx Square by bus number 112, and then the metro and go to the station "Student" (Address: street Nemirovich-Danchenko, 144a; website: www.gorskiycityhotel.ru)
Park "Bugrinskaya Grove"
In addition to the observation deck (which has the shape of a semicirclediameter 10 m), with views of the bridge, the park offers: cozy alleys; areas with pavilions for picnics; children's and sports playgrounds. Address: Street Sava Kozhevnikova, 39; official website: www.bugrinka-park.ru
Park "City beginning"
Located on the waterfront of the Ob River, the park hasseveral review sites - hence will be able to admire the floating fountain in the Obi, consisting of 3 fountains - Central (12 m in diameter) and two lateral (9 m), whose jets reach a height of over 30 meters.
The restaurant "Le Buffet Sky Lounge"
Located on the 12th floor of BC "Europe"food restaurant offers admire the beautiful panoramic view of Novosibirsk and enjoy European cuisine (it is worth considering that the elevators are turned off before the institution closed, so we sat up past midnight will have to go down on foot). Address: Krasny Prospekt, 182/1.
Restaurant "Heaven"
This panoramic restaurant is located on the 25th floorBC "Cobra" (high-speed elevator takes you to the floor 23, the remaining 2 floors have to overcome foot) - there will be able to enjoy the local cuisine and wonderful views, in particular, the left bank. Address: Prospect Dimitrova, 4/1.
Ferris Wheel at the Quay
A ride on the 35-meter Ferris wheel (attraction features a glassed-in shower and is open until midnight) will be able to, by paying for a ticket of 150 rubles (children under 5 years old - free of charge).
Photo