New Year's Eve in St. Petersburg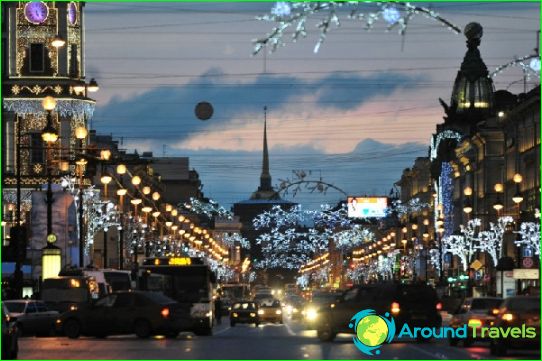 Northern capital is often called one of the mostbeautiful cities in the world. Every year there are millions of tourists, and each of them takes away a piece of my heart in St. Petersburg beauty and hospitality. A visit to the city, praised by poets and artists, can coincide with the winter holidays and mark the favorite New Year's Eve in St. Petersburg.
Palace Square - the heart and soul of Peter
On the main square is not only focusedits important architectural sights and art treasures. Palace - the real heart of the northern capital, it does not just become a witness to the changes and revolutions. Today, New Year's Eve is going everyone feel the atmosphere of friendliness, unity and solemnity. On the main town square for the holiday set tridtsatimetrovoy elegant tree and entertain guests world stars and fireworks show.
Celebrations and Fairs
St. Petersburg is different special reverencenational traditions, the main of which is the New Year's holidays - to organize festivities and skating with ice slides. The modern metropolis, Peter does not get tired to surprise their guests continued authenticity and the opportunity to plunge into the past. Feel the spirit of antiquity, you can, once in the Peter and Paul Fortress, where each year constructing ice castle with slides, go with that loves children and adults. Fantastic lighting makes the shape of the ice fairy and mysterious, and the means for the descent from the hills here is rented.
Lovers stroll along this cityFair is to come to the New Year in St. Petersburg, to unburden himself at the Christmas Fair at the Ostrovsky Square. The traditional shopping arcades offer guests bazaars Christmas decorations, holiday souvenirs and gifts for family and entertainment in the spirit of Russian folk festivals. The audience in the fun entertainers perform in the fair booths, and live music from folk ensembles helps not be chilled at a light frost St.Petersburg.
Photos of New Year celebrations in St. Petersburg