St. Petersburg 1 day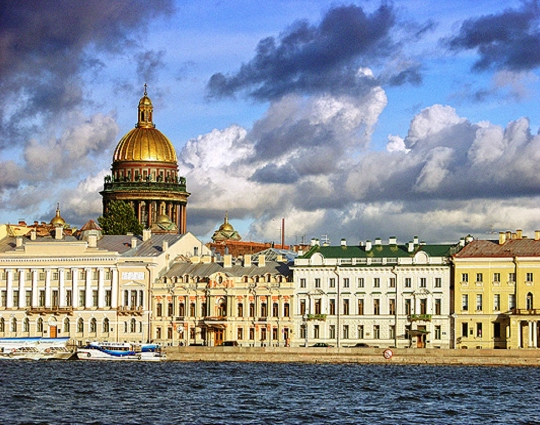 Northern capital of Russia and the Venice of the North,St. Petersburg receives all enthusiastic epithets in his address without reason. Its beauty is legendary in the world and every tourist is willing to try at least to see Peter 1 day, more if, for whatever reason, can not yet afford.
"Flying over the white nights of the soul intoxicated ..."
The most fertile time for love withPetersburg - the end of June. At this time, the city on the Neva, white nights come. A few weeks sunset quietly and smoothly flows into the dawn and the dark is almost no time left to cover the city in full. These days in St Petersburg are special with the activities, festivals and events, participate in hundreds of thousands of visitors come. Musicians begins jazz festival "Swing White Nights" and in the "Scarlet Sails" thousands of satisfied graduates celebrations in St. Petersburg embankments and squares.
Reflections on a walk
Coming out of the train at the Moscow station, easierjust go for a walk along Nevsky Prospect, within which there are all the main important attractions of the city. Then, St. Petersburg 1 day would be real, and the details will be left to the next longer trip.
Anichkov Bridge with its famous sculpture groups will meet on the Nevsky one of the first. The bridge is named after the commander of the military unit is being built in the beginning of the XVIII century the crossing.
Particular attention has always attracted touristsSaint Isaac's Cathedral. The largest Orthodox church of the city was built on the project Montferrand in the middle of the XIX century. Its height is just over 100 meters, and is always a crowd of people on the observation deck. From St. Petersburg is seen at a glance, and all its palaces, bridges, canals and squares look particularly picturesque. Next to the St. Isaac's Cathedral located hotel "Angleterre" and "Astoria" and Mariinsky Palace.
"I love you, Peter's creation ..."
Pushkin glorified Petersburg, which would neverIt happened if not for the energy and progressive views of the Emperor Peter I. During his service in the Senate Square, the monument, which is called the Bronze Horseman again thanks to the poet. Bronze 10-meter statue of the Frenchman made Falcone at the direction of Empress Catherine II and a visit to this masterpiece is well within the scope of the program "St. Petersburg for 1 day."
Photo