Excursions in Kronstadt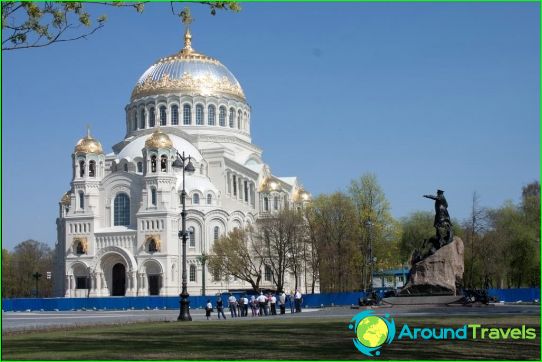 Petersburg - a unique city, which is famous foreventful history. Every tourist who arrives in St. Petersburg, keen to learn about it as much as possible. Excursions in Kronstadt will help to understand how unique in the history of this city.
Sightseeing tour
During the excursion you will learnhistory of dam construction in St. Petersburg and Kronstadt. The program includes mandatory inspection Anchor Square, Petrovsky dock Kronstadt Naval Cathedral, numerous monuments. Many sightseeing tours in Kronstadt suggest a boat trip with a visit to the forts, among which are "Kronshlot", "Peter", "Paul I", "Grand Duke Constantine" and "The Emperor Alexander I". For the minimum amount of time you will be able to understand what is Kronstadt.
Top attractions Kronstadt
Kronstadt Naval Cathedral. Year of construction of the cathedral began, 1913. This temple is a monument to all the sailors who lost their lives fighting for their country. Kronstadt Naval Cathedral is considered to be the spiritual center of the Russian fleet. An example of the church became the cathedral of St. Sophia, built in Constantinople. History sights was extremely severe: in the 1920s there was the destruction, in 1929 - the closure during the Second World War - a strong destruction. Subsequently, a large-scale restoration was carried out, due to which in 2002 the dome reappeared cross, and in 2005 held the first liturgy.
Vodokanal museum. The museum is located in the pump house water utility building, which is the main mechanism of the first aqueduct, which appeared in Russia. In the middle of the XIX century on the territory were two steam engines, providing water circulation through numerous pipes. Each museum visitor can learn the history of water supply.
Summer garden. Kronstadt deservedly famous for its summer garden, which appeared in the XVIII century. Summer Garden began its history under Peter the Great, but was rebuilt by Charlemagne in the early XIX century. The object protected by the state. To date, the main avenue could be preserved in its original form. Unfortunately, the house of Peter the Great, as well as numerous houses closest supporters of the king did not get to see as they come into disrepair and were demolished. However, enjoy a stroll through the gardens and imagine what it was before, maybe. Currently, summer garden is in poor condition, but the authorities are planning to hold the restoration work.
Kronstadt is famous for the unique historic architecture and is the best witness of many important historical events in Russia.
Photo excursions in Kronstadt