Excursions in Peterhof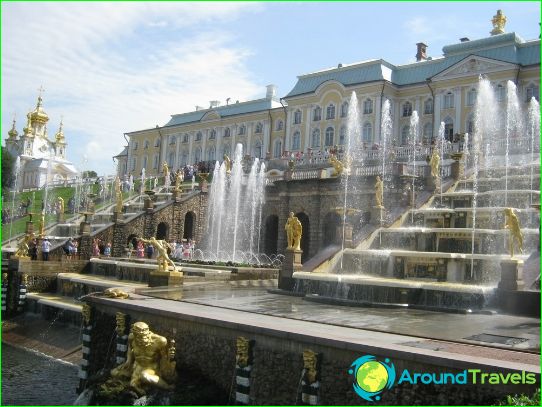 Excursions in Peterhof is an indispensable element of cultural recreation for the guests. If you visit in St. Petersburg, but did not visit the Peterhof, then you just do not understand.
Sightseeing tours to one of the countryresidences of Russian rulers are held on the bus. The guide talks about the "Peterhof Road", as well as the iconic landmarks along it. You can learn a lot of interesting things as the Peterhof, and on the bottom and the top parks. You will also get acquainted with the masterpieces of Russian architecture:
Hermitage Pavilion;
Monplaisir Palace;
Marly Palace;
Grand Palace;
Fountains of the Lower Park.
The residence of the Russian tsars
Peterhof - a magical, luxurious gemwhich shines in the placers of Historical Treasures of St. Petersburg. This place is perfect at any time of the year. For guests there are prepared not only stately promenades, and multimedia show with laser animation and stunning pyrotechnics, exhibitions, games, festivals, children's educational programs. In summer, the solemnity of this beautiful palace added fountains.
Lower Park is famous for royal buildings andfountains, which were designed even under Tsar Peter. During the reign of Peter the Great in the Lower Park were also constructed such notable places as the Hermitage, Samsonievsky grotto fountain Adam, channels, marina, Nagorno Palace Monplaisir and Marly.
The largest architectural construction of Peterhofis the Grand Palace. This work of art stands at the edge of the terrace, the height of which is 16 m. The Grand Palace is an elegant three-story building with gold glittering domes and terraces.
Price excursions
Basically, the price of the tour will depend on thethe number of events, guides and qualifications of the total time. Much private guided tour will cost more, so it will be much more profitable and more fun, if you will join to any group tour. The more gather the group, the cheaper the tickets will cost.
Excursion to Meteora
This is a particular pleasure, as a tour of thePeterhof Meteora, only available in the summer 'high' season. You will make an unforgettable boat trip along the Neva river smooth surface and eat all the stunning beauty of Peterhof from the sea. It is a journey you will remember for a lifetime.
Typically, water excursion to Peterhof beauty Peterhof included in different variations and the overview. If you want to visit this tour, it is necessary to order it in advance.
Photo excursions in Peterhof