Viewpoints St. Petersburg area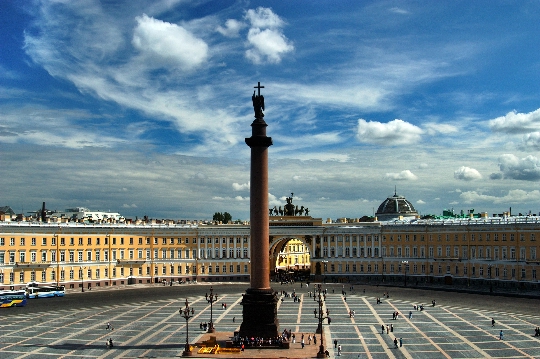 Sometimes visitors do not have time to get around allattractions of the northern capital. In such situations "save" viewing platforms of St. Petersburg - they will see the beauty of the city in no time.
Review of the best viewing points
St. Isaac's Cathedral (St. Isaac's Square, 4): admire the Admiralty, the Winter Palace, Vasilevsky Island, dozens of architectural monuments will be possible from the site, located on the 43-meter height, and thanks installed binoculars, hence will be visible and the suburbs (ticket + audio guide will cost 150 rubles, is open for visitors even at night). Not deprived of attention and people with disabilities: they can carry out the rise to the observation platform (located at 5 m below the colonnade), using a special elevator (waiting for them a special 20-minute program).
Smolny Cathedral (Rastrelli Square, 1): to climb on a platform 50 meters high, it is necessary to overcome the more than 270 steps (entrance ticket cost 100 rubles for the guests will be held 18-minute sightseeing tour of audio), and recovery will be accompanied by listening to pieces of music of the Baroque period.
"Loft Project Floors" (Ligovskiy, 74; entrance - 200 rubles) visited the exhibition, it is recommended to make a climb to a height of 27 m for inspection remarkable facades of architectural monuments.
Leader Tower: the business center (at night it becomes a facade multimedia screen that plays an animation), 140 meters high, is located in Constitution Square, 7. He will be pleased by the presence of the guests a panoramic restaurant (40 floor), where you can sample delicious dishes while taking in the views of St. Petersburg.
Museum-studio named Bulla (Nevsky Prospect,54; Entrance with photographing will cost 150 rubles): In addition to viewing the works of the famous photographer, offered to go on a viewing balcony which overlooks the avenue where the museum is located, and Sadovaya Street.
Azimut Hotel: the role of the observation platform performs Azimut Skybar - with views of some churches, Admiralty Shipyards, old houses and mansions. Address - Lermontovskiy Prospekt 43/1.
Walking the route "Neva Panorama"
Guests will be invited to admire the views,opening of the historic center (the route length - 300 m, the cost of tickets - 250 rubles, students and pensioners, they will cost 200 rubles), walking along one of the walls of the fortress on the comfortable wooden deck, fenced railing (at 12:00 here is visible to the midday ceremony shots). The nearest metro station is Gorky, then one should go in the direction of the fortress.
Photo