Where to eat in St. Petersburg?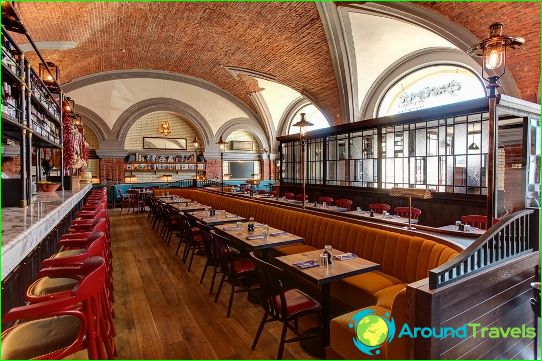 You are concerned about where to eat in St. Petersburg? It offers restaurants, cafes, fast food places, coffee and tea (KFC, "Coffee House", the Subway, "teaspoon", "Tower").
Where to eat in St. Petersburg cheap?
It is worth noting that a business lunch in the cafe,located in the city center, will cost 200-400 rubles, and in one of the restaurants on the Nevsky Prospect - at 600-2000 rubles. But if you want, even in the city center, you can find places where you can eat delicious and budget. With regard to inexpensive dining options, the greatest number are concentrated in the Haymarket area.
Where to eat in St. Petersburg tasty?
Cafe "at full speed" (many dishes are preparedper pair): in this place you can order burgers, meat rolls, dumplings, fish, Greek or Caesar salad, avocado with prawns and other delicious food (average score - 300-400 rubles).
"Fresh Point" Cafe: this cafe is for lovers of fast, friendly and delicious food. Here you can sample a variety of salads, sandwiches and eco-rolls. In the morning, guests can have breakfast cheaply. For example, for the "breakfast tea" (porridge, tea, almond cookies), you will pay about 110 rubles.
Vegetarian cafe "Troitsky Bridge": Vegetarians will be delighted with the institutions of the network - then they will be able to enjoy all kinds of vegetarian soups, salads, casseroles, pastas at reasonable prices (the average score - 300 rubles).
Marketplace: This self-service restaurant serves European dishes (soups, salads, steaks), as well as, delicious pasta, which is prepared in front of visitors at the bar open kitchen.
Finnish dining room (Big Stables Street): in this place you can enjoy Finnish specialties at very attractive prices (Finnish soup cost 50, and baked fish - 90 rubles).
Be sure to visit "Mary's bagels" -Here you can enjoy delicious cakes, bagels with a variety of savory fillings, inexpensive salads, cakes, cupcakes, cakes (the average score - 300-500 rubles). In addition to a wide range of snacks and desserts, the cafe is of interest portion sizes - they correspond to the size of clothes (S, M, XL).
Gastronomic tours in St. Petersburg
If desired, you can go on a gastronomictour - as part of this tour you will be told about the different cuisines of the world, and will hold a master class for you (for example, you can learn to cook Italian or French cuisine).
Considering your preferences, may be for youorganize the cigar or wine evening, the purpose of which - to teach you how to choose the right wine (you will learn about the history of wine country, learn to read the label and understand the classification of wines).
Friendly St. Petersburg offers a cheap and tasty meal in a variety of food establishments.
Photo