What to do in Saratov?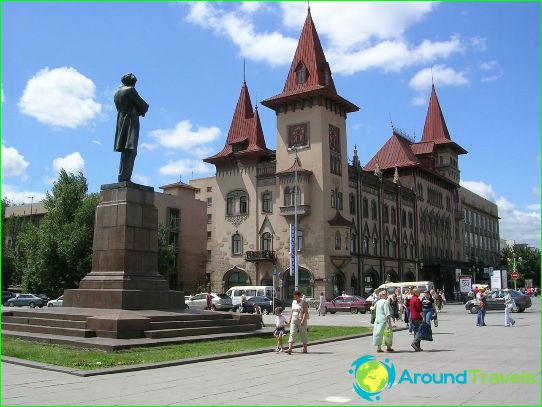 Saratov is a modern industrial port city with a developed infrastructure, an amazing nature and interesting cultural monuments and attractions.
What to do in Saratov?
Admire the Holy Trinity Cathedral;
To visit the museum-estate Chernyshevsky;
Take a parachute jump to see the Saratov, the surrounding fields and woods with a bird's-eye view (the city has several flying clubs);
Rent a boat or a yacht to take a trip along the Volga;
Photographed against the backdrop of one of the main attractions in Saratov - Saratov-Engels Bridge;
To visit Limonar - nursery, where lemons are grown.
Things to do in Saratov?
To explore the Saratov, it is advisable to go for a walk in the city center.
On the main street - Avenue Kirov - youmeet a variety of shops, trendy boutiques, restaurants and other entertainment venues. Reaching the end of the avenue, you will see the Limes Park, which necessarily must come - surely you will enjoy being here fountains and flower beds that will set you on a romantic and relaxing mood.
Active tourists can spend memorable timein paintball club. The organizers will help you to feel like a cowboy, a policeman or riot policemen. This military-sports game will help you to actively spend time outdoors, teach you how to work in a team, to navigate the terrain and take rapid decisions in emergency situations.
No less interesting, you can spend time in a go-kart center, where you can participate in this group stage, if desired.
If you arrive in Saratov in the winter, be sure totake a trip to the local camp sites - here you can rent a sled, skis, snowmobiles, play billiards, table tennis, relax in the bar and cinema. In addition, if desired, you can provide services on the organization of the winter fishing.
Well, summer is to go to the park kumysnyhValley to picnic there. The park has a wooden pergola and parking zone (rest here is completely free with no pre-orders).
Those who rest in Saratov with children cango to the Youth Theatre and Saratov circus named Nikitin brothers. And sports fans should visit the "Spartak" stadium - is held municipal and regional football matches, competitions in running, long jump and height, and other sports.
Arriving to Saratov, you will not have the issue, where to go in this city: you will have to wait every day parks, museums, exhibitions and other interesting places.
Photos you can go in Saratov