Excursions in Voronezh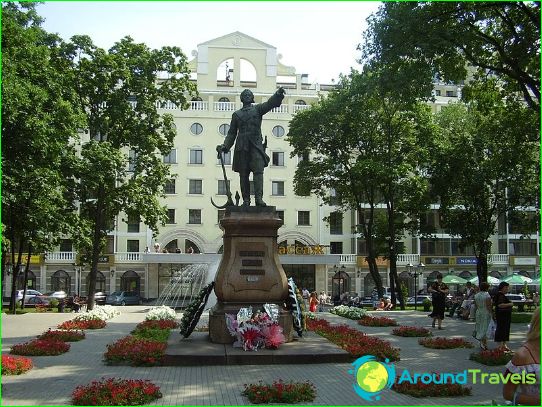 When people come to a new city for them, then,as if they were busy, they want to get acquainted with its sights, learn something new and interesting, or just stroll through the streets of an unfamiliar city for them. It does not matter whether this be a major industrial center or a small town. As practice shows, in almost every village there is a lot to see. No exception and Voronezh. Many will want to visit the majestic Cathedral of the Annunciation, to look at the world's only monument to the DNA, someone rushed into the Scientific Library. I.Nikitina, and the people that came with their children, want to be sure to show them the monument of the kitten or the famous White Bimu. But if you are the first time in this city, it is best to make an excursion in Voronezh to view of the city was more than full.
Voronezh - a city with a rich past
Travel agencies offer tours to anytaste associated with the past of this city, with the famous people who were born, lived and worked here, excursions to the Orthodox bias, as well as guided tours where you can learn more about Voronezh sports or architectural past. There are thematic excursions, where visitors are introduced to the contribution of Voronezh in the war of 1812 and the Great Patriotic War. It is very interesting for many will be a tour, telling about the construction of the fleet in the shipyards of this city on the orders of Peter I.
Many people enjoy a monument called the ship"Mercury". The layout of the ship, which was built in the shipyard in Voronezh during the time of Peter I, is now "taking off" the rock and rises over the waters of the Voronezh Reservoir.
Voronezh - a city with a rich literary history. Even in 1868 here on the initiative of the poet's sister was a monument to the poet Alexei Koltsov. Later on this place we broke the eponymous square. Ivan Bunin was also born in this town. This is a well-known writer, who was awarded the Nobel Prize, and erected a monument near the regional library. I.Nikitina. It was opened to the 125th anniversary of the writer. Square, on which the mall is this monument, now bears his name.
Sightseeing tours - a great opportunity to explore the city
If you visit the sightseeing tours in Voronezh, you can learn many interesting things. Usually, city tour includes the inspection:
Revolution of the Prospectus;
Liberty Square;
Visiting St. Basil's Cathedral;
Visit Assumption Admiralty Church;
Visit Tower Alekseevskogo Akatova monastery;
Stone Bridge, Petrovsky Koltsovskogo and squares.
When visiting Voronezh necessarily make an excursion, then familiarity with the city will be interesting, informative and more complete.
Photo excursions in Voronezh