Viewpoints Voronezh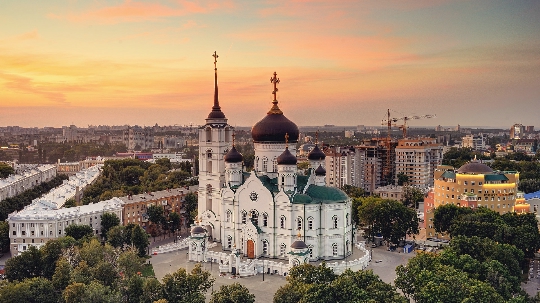 Voronezh attracts visitorssites of historical and cultural value (here there are business centers and buildings, noble estates and "Khrushchev"), as well as the ability to view them from a height of bird flight (to cope with this task will help viewing platforms Voronezh).
Review of the best viewing points
Center "Gallery Chizhov" (height Voronezhskyscraper - 100 m; 25 floors): from here can see the whole Voronezh and its suburbs. It is worth noting that all the floors of the building are decorated in different ways, so thanks to the original design decision you will be able to "visit" in Tokyo, Paris, Cairo, London, Amsterdam and other cities, as well as enjoy a vertical fountain "Waterfall" and a fountain "clock." Address: Street Koltsov, 35. Free tours involving climb to the observation platform, held on Tuesdays and Thursdays at 18:00, on Fridays and Saturdays - 16:00, and on Sundays - from 12:00 to 14:00. Interested in an individual approach with the possibility to attend the tour at a convenient time for you? This pleasure will cost you 300 rubles (pre-registration).
The observation deck, located at the following address: Children's alley. Coming here, it will be able to admire the Admiralty Embankment and the Voronezh Reservoir.
Annunciation Cathedral(Russian-Byzantine style, the height of the cathedral - 80 m): to climb the bell tower (for this purpose is provided with elevator), you need to pre-register in the shop of the cathedral (Easter here allowed everyone to beat the bell, decorated with bas-reliefs from the faces of the saints, and In addition, talk about belfry device how to "call", which are characteristic of the different chimes church holidays). Address: Avenue Revolution, 14B.
Cafe "Il Tokio"
Visiting the restaurant in the summer, it is necessary to stay onsummer terrace to admire the city, enjoy dishes of Japanese and Italian cuisine, and forget about everyday worries (it makes sense to sit down at a table near the large panoramic windows in the rest of the year). Address: Avenue Revolution, 33b (8th floor).
Bald mountain
From the top (it rises to almost 50 m abovelevel of the river) you'll get a picturesque view of the left bank of the Voronezh River, where pine forests darken. It is worth noting that there are small Scythian burial.
Flight excursion
Resorting to the services of the helicopter squad"Sunny", you will be able to admire the height of the Annunciation Cathedral, the park "Scarlet Sails", the Admiralty Square and other objects (approximate cost - about 10,000 rubles / 15 minutes per couple).
Photo