Excursions in Yaroslavl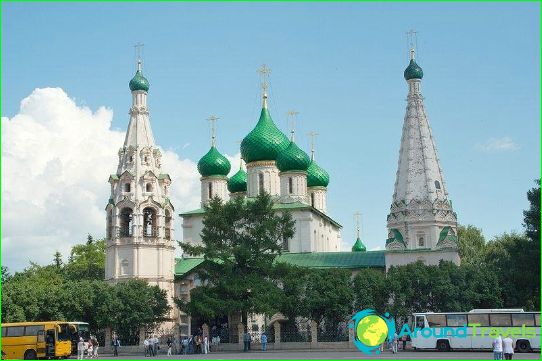 Yaroslavl - an ancient Russian city, allowingimagine what was Russia many centuries ago. The life of the local population tranquil pace. Not surprisingly, Yaroslavl is still one of the most important tourist points of the route called "Golden Ring of Russia". All tours in Yaroslavl assume familiarity with the numerous attractions.
It is important to note that the city is located about800 architectural monuments, which are under state protection. Five years ago, a famous event: the UNESCO historical center of Yaroslavl made in the list of World Heritage sites.
Sightseeing tour
All sightseeing tours in Yaroslavl begin withexplore the city center. It is important to note that the area is listed as an example of urban planning policy of the XVIII century. Each tourist can see old churches and cathedrals, monasteries, as they are located throughout the city. From the outset, Yaroslavl makes a special impression, because it appears the old white-stone town with beautiful gardens and wonderfully pleasant aura.
Top attractions in Yaroslavl
Church of St. Nicholas Nadeina. This temple is remarkable in that it consists of two churches, namely, from the ancient temple and the chapel of the Annunciation. In the chapel before I conducted a separate entrance, so it served as a home church. Now the church is perceived as a single, with the result that it becomes more valuable for many tourists.
Church of the Nativity was the first in Yaroslavl. For its design used "Anting" tiles, which could become a "brand" the sign of one of Russia's most ancient cities.
Cathedral of the Assumption of the city keeps unique frescos. However, the church museum is often closed because the main goal is to preserve the ancient frescos.
State Historical and ArchitecturalArt Museum-Reserve Yaroslavl consists of two parts, namely, from the museum to the main exposition and the Metropolitan Chambers. Each tourist can see amazingly beautiful paintings of the best artists of Russia, as well as the old icons.
Museum of Yaroslavl history allows you to see the valuable archaeological finds, documents and layouts of the city, illustrating the important historical events that took place in the life of the city.
Would you like to learn Russian and to better understand its history? In this case, plan a trip to Yaroslavl, it deserves your attention!
Photo excursions in Yaroslavl