Beaches in Balakovo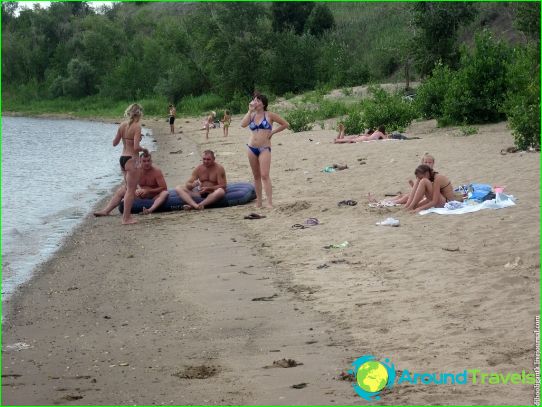 If we talk about Balakovo beaches, then this isno sea beaches. This resting place on the great Russian river Volga, as well as on Lake Balakovka and even artificial reservoirs. Balakovo in the Saratov region is where the continental climate dominates, so in the summer it is very hot. And if you're near the big water, then willy-nilly, you want to swim. Theme more water in the Volga tender, soft. In this broad current of the river, for its slow and stately. And another characteristic feature of large rivers - the coast with white quartz sand - are obvious. Bathe even here, and - at official designated areas - even in the navigation channel.
This year in Balakovo open to holidaymakersfive official beaches. In addition to this, there is almost more informal beaches. And if you take into account more and a small area for swimming, sanatoriums belonging to the city, organized on the lake Balakovka, as well as those that exist for suburban towns, it turns out that Balakovo - a paradise for beach lovers. And we have to tell you about the best sandy beaches of Balakovo, as well as herbal and even ... concrete.
Official free beaches in Balakovo
1. Beach 7th district organized in the navigation channel.
2. Beach 1st district, arranged on the artificial lake "Dolphin" next to the pool.
3. Beach "Zhilgorodka" that Balakovka lake.
4. The beach on the Volga River in the area of ​​"Old pier."
In addition to these municipal areas for a beach holiday there is also equipped with a paid beach, located on the same channel, but not on the river or lake.
Official Paid beaches in Balakovo
Beach "On Mamayka" on the navigation canal for gateways.
Informal bathing places, the so-callednatural beaches, Balakovo still remains higher than the official. It is likely that over time some of these popular places of bathing domesticated, turning them into the municipal beaches, while in the other, most likely, simply ban swimming. In the meantime, with these places nobody rides, you can safely get to their cushions, beach umbrellas, groceries and so on. D. And at the same time, you can ask the regulars, whether decided on this place fry kebabs in their braziers. Here is a list of these locations:
Wild beaches Balakovo
Beach of the gateways to the navigation channel, located just a gateway bridge.
Beach of the 3rd district.
Concrete Embankment "Zhilgorodka" again on the shipping channel.
Deserted island coastline.
Lake Linevo. It is believed that the water quality of the lake has suffered greatly in recent years, but some fans continue to walk a beach holiday here.
The beach near the pumping station name Alekseevskogo irrigation canal.
Embankment of the Volga in the neighborhood of HPP (near "Balakovka" lake).
The beach area near the boat station of the 1st district, located alongside a stadium "Trud".
Almost all the coastal area holiday village Sands.
Photos Balakovo beaches