Beaches Russia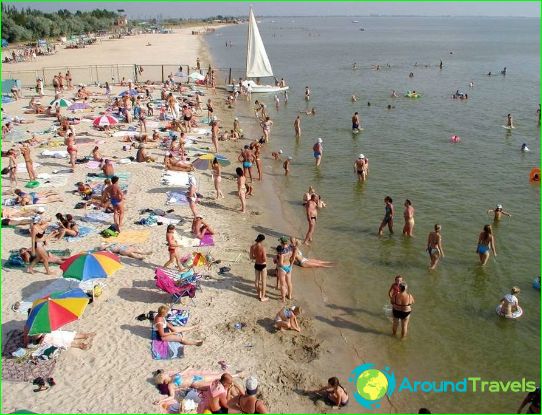 A large number of Russians are choosing vacation at home in Russia. This is not surprising because choosing Russia resorts, solved a lot of problems:
Language barrier.
Acclimatization (very important for families with children).
The lack of a visa.
Despite the harsh climate of the country, on vacationsea ​​resorts of the Black Sea in the season can be simply spectacular. Russian beaches attract for its cleanliness and infrastructure. On many beaches there are deckchairs, umbrellas and shower.
The most popular are the resorts of the Black Sea coast of the Caucasus and the Azov Sea.
Sochi Beach - the pearl of the sea
This resort is rightfully received the title of thethe best in Russia. The picturesque area on the shores of the sea with excellent climatic conditions. Beautiful sea, amazing scenery, unspoilt beaches Russia - all of Sochi and its surroundings. The mild climate allows you to come here on vacation all year round and has its charms in every season. Many hotels and resorts are ready to receive thousands of visitors. The famous mud baths and mineral springs - create a special atmosphere, which allows not only to relax but also improve your health well. The composition of Sochi includes such well-known cities - resorts like: Adler, Dagomys, Lazarevskoye, Kudepsta, Hosta, this is where concentrated the best sandy beaches of Russia. However, Sochi is not only a beach holiday, vacationers can enjoy the wonderful entertainment program. Visit the local cafes, restaurants and nightclubs. Also in Sochi often hosts film festivals.
Beaches Anapa
Many mineral springs, mild climate,attractions and a variety of entertainment, excellent infrastructure and clean beaches - all this holiday in Anapa. Top Russian sandy beaches are here in large numbers, which is why this resort prefer to choose for families including children.
Anapa famous Russian resort. Here it is located deposits of therapeutic muds, iodine-bromine brines and sulphide water sources. Therefore Anapa is famous for its mud baths. Vacationers arrived at this resort, can not only relax, but also healthier.
Photos Russian beaches