Children's camps in Mordovia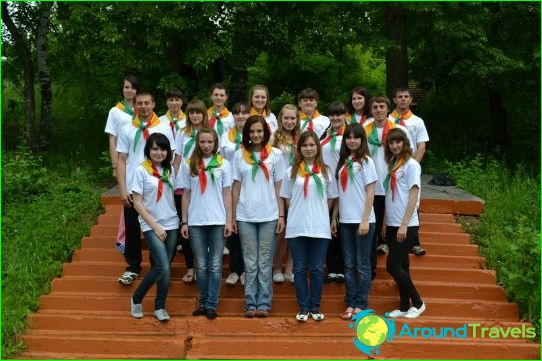 On the territory of Mordovia has more than 16 childrencamps. On the balance sheet of companies and enterprises are 11 institutions, and the balance of municipalities - 5 camps. Improving summer campaign carried out in the Republic of Mordovia annually. The main attention is paid to the development of a system-of-town camps.
Which camp invite children on holiday
In Mordovia prevails moderate continentalclimate. In winter you cold and frost, and in the summer - moderate heat. Such conditions make it possible to organize a fun summer vacation for children. Every year, children's camps in Mordovia take no less than 60 thousand students. Country has stationary and campgrounds in the country. A popular type is the establishment of tent camp "Inerka".
Guys also invite specialized camps: tourist, ecological, linguistic, and others. All institutions provided a rich program of rest. Teachers and educators have set themselves the following objectives:
school improvement;
a correct way of life in children;
the development of professional, scientific and creative potential of children.
In general, the organization of children's leisure in MordoviaIt leaves a good impression. Some problems exist in almost every camp, but the authorities are trying to solve them quickly. First of all, we are talking about the reconstruction of the camp, built in Soviet times. They are out of date, but continue to take the children. In addition, children's health camps in Mordovia is not enough to cover everyone. The number of such institutions is reduced. In 1996 we worked in Mordovia 35 camps. Today they are much smaller. Region can not alone solve the problem. Funding children's programs comes from the federal budget. At present, management plans to increase the number of camps, making the reconstruction of some rural schools.
What attracts Mordovia
Resting in Mordovia, children make excursions tolocal attractions. If the camp is located near the capital of the republic, the students can get acquainted with the history of the city. Saransk - the old town, which was founded in 1641 It is not very big, you can get around in a few hours. Attractions Saransk concentrated in the center. There's Trinity Church, National Museum of Fine Arts, the Cathedral of St. Fyodor Ushakov and other famous places. On the territory of Mordovia arranged specially protected natural objects, causing interest among vacationers: the state and game reserves, botanical monuments, peat bogs, lakes and springs.
Photos of children's camps in Mordovia