Russia Coast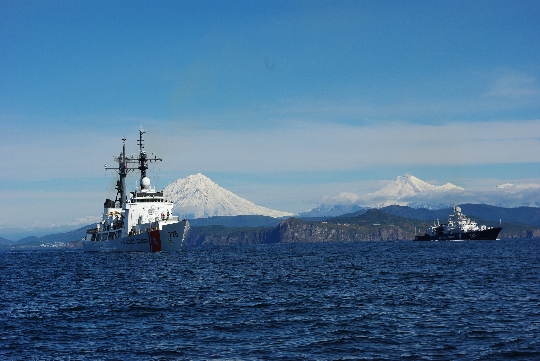 On the coast of Russia all the conditions for an interesting pastime.
Russian resorts on the coast (the benefits of rest)
Travelers vacationing in RussiaThe Caspian Sea, will wait for the Astrakhan Biosphere Reserve, and fishing tours (it is possible to catch sturgeon, sturgeon, beluga, asp, pike-perch), the hunting of game, floating islands and sand dunes; on the Baltic Sea - maritime climate, close to the moderate, which is important for those who do not tolerate heat and has difficulties with acclimatization, as well as beaches, where there are practically no hubbub and bustle; on the Black Sea - a unique entertainment, comfortable hotels, motels profile, stay where you can treat a particular disease; Sea of ​​Azov - the relative cheapness, opportunities for family, measured and recreation.
Cities and resorts on the coast of Russia
Adler: it is worth to visit the beaches of "Ogonyok" (equipped with drinking fountains, market stalls, showers, luggage storage) and "The Seagull" (on the beach has lifeguards, showers for washing off sea water, cabanas, create conditions for snorkelling and on the waterfront, you can look into the shooting range or play a game of air hockey), as well as in the "Sochi park" (there are themed areas "Land of heroes" and "alley lights", attractions "Firebird", "Flying ship", "Dragon", " Gems ").
Anapa: Anapa offers to pass a spa treatment (mineral baths, limanoterapiya, aerotherapy), learn to scuba dive and go on a dive excursion, which is organized for you in the "Aqua Globes" dive center, go on various attractions in the park 30 anniversary of the Victory (equipped with a children's playground, trampolines, "roller coaster" and you can ride ponies and horses), visit Pingvinarii and water park "Golden beach" (there is a roller coaster, "lamp of Aladdin", "Spiral", "Host" "Twister," "Mountain stream", 7 swimming pools, the complex "treasure Island" for younger guests), situated on the beaches of "Cordon" (ideal for divers), "High coast" (there are a variety of entertainment, life position, equipment rental shops, sun loungers and umbrellas, and here you can enjoy stone therapy) and "Little bay" (it is equipped with first-aid post, rescue tower, shops, cafes, Rentals, where rent rent equipment for outdoor activities).
Yeysk: the city is to take a walk on the Nikolsky and Gorky Park, to look into the water park "Nemo" (there are slides "Multislide", "Frifoll," "Twister"), oceanarium "Shark Reef" on the beach "Kamenka" (equipped with a point of catering, dressing rooms and comfortable sun beds, and even here it is possible to play sports on water and land) and the central city beach (there is a dressing room in the form of screens and booths, souvenir stalls, sun loungers).
Do you want to get a nice tan, enjoywarm sea, to receive a high quality service in many hotels, go to the Black Sea coast in the Krasnodar region and other Russian seaside resorts.
Photo