Cruises in Oka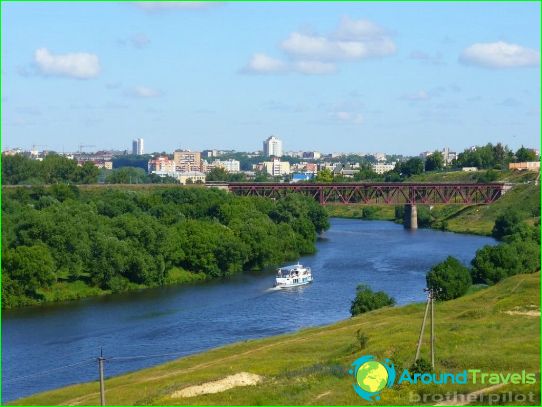 Oka originates in the CentralHills and flows into the Volga in Nizhny Novgorod region. Its length is almost one and a half thousand kilometers, and all the way to its course there are many interesting and original Russian cities and towns. Cruises along the Oka River are very popular among fans of rest in his native land, because during the following cruise ship, you can sunbathe and swim, enjoy the scenery float, make excursions and trips to historical places.
Constellation cities
The names of the cities where the participants of the cruise along the Oka make a stop, known to every citizen of Russia:
Ancient Ryazan, founded in the tenth century vyatichi. Here it is preserved a magnificent architectural ensemble of the Ryazan Kremlin, founded in the eleventh century. Its main attraction - the Assumption Cathedral, whose dome is crowned with crosses wizard Stepan Malofeeva.
Former Kasimov, rebuilt on the sitedefeated the Tartars in the fourteenth century fortress. It preserved the minaret of Prince Kasim, who was named in honor of the city, the mausoleums of sultans and khans times Kasimskogo kingdom. Orthodox holy city - St. Nicholas Church, do not stop your life for three hundred years from the time of construction.
Legendary Moore, the first mention of whichfound in the "Tale of Bygone Years". The glorious past of the city and made it a wonderful present place of pilgrimage for believers and fans of ancient architecture. Among the most famous muromchan - hero Ilya Muromets, whose monument welcomes guests on the waterfront of the Oka and the pilot Nikolay Gastello, who committed heroic deeds during the Great Patriotic War.
Konstantinovo and Yesenin
Pearl of any cruise along the Oka River - the villageKonstantinovo, where in the late nineteenth century, birthplace of the great Russian poet Sergei Yesenin. His lyrics are a shining example of love for his native land, to be seen and the participants of the cruise. Travelers visit the house-museum of the poet and the Kazan Church, located on the village square.
Totally agree"!
During the cruise on the Oka travelersaccommodated in comfortable cabins and enjoy all the advantages of this type of holiday. Duration and cruise itinerary, cabin type can be selected individually, depending on the time and resources available to the tourist. Unchanged all trips will be high quality service, comfort and excellent service on board each cruise ship.
Photo