Cruises along the Golden Ring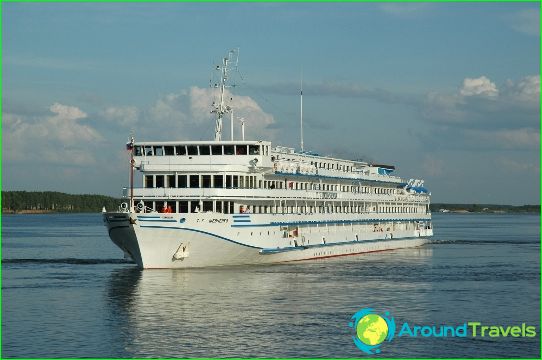 In Russia there is a popular touristroute that introduces travelers to the ancient Russian cities. In such places, preserved historical monuments and architectural attractions, traditional crafts alive and revived traditional crafts. Many of these ancient cities are located on the Volga River, and because cruises on the gold ring on ships carried out in spring and summer. However, to visit the city of the Golden Ring can be on the bus or train. In this case, the time of year does not play a special role and a minimum fine of Kostroma, Yaroslavl and Vladimir appear in front of guests, and at Christmas and in the first days of spring, and during traditional autumn fairs.
White ship
His start cruises take in the Golden Ringthe capital of Russia. On the river station in Moscow sent to the white boats, on board which brings together true connoisseurs of history and culture of his native land. Depending on the route and duration of the voyage, guests visited Uglich and Yaroslavl, Kostroma and Ples, Tver and Rybinsk. Some of the ship stops, strictly speaking, are not cities of the Golden Ring, but the major milestones of the route belong to him.
River cruises along the Golden Ring are popular for several reasons:
Nice prices for tickets that allow to travel and to pensioners and students, and large families.
An extensive entertainment program on the boat, thanks to which during a trip do not miss any adults or kids.
Exciting excursions in each port with a visit to historical sites and places of memory.
Opportunity to buy unique products of folk artists in the areas of the ship stops.
The summer schedule of cruises along the Golden Ring maximizes useful to spend part of the holidays at school.
Landmarks and Legends
During walks in the cities of the Golden RingTourists will learn many interesting things and learn about the history of his native land. Some of the landmarks of the route marked by UNESCO as unique constructions worthy of world cultural heritage list.
In each city there were once uniquehistorical events that during the trip you can learn interesting details. In Uglich guests to show the place of murder of Tsarevich Dmitry, Kostroma - Ipatiev cathedral where were crowned king of the Romanovs, and Yaroslavl - Bear Corner, which has become a place of the city's founding by Yaroslav the Wise.
Photos cruise along the Golden Ring