Cruises along the Amur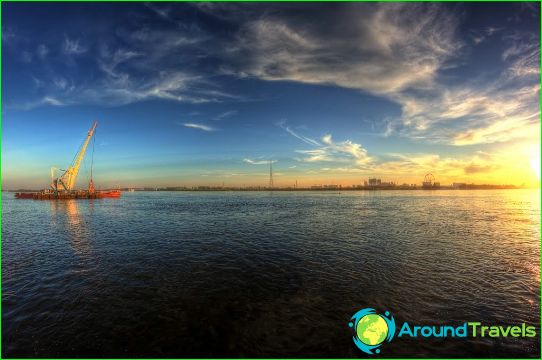 Cupid - the grand waterway FarEast of Russia. The length of the river is almost three thousand kilometers. As it forms the border with China, and Cupid is ranked fourth in the country among the basin area of ​​the river. Fans travel on their land will be interesting cruises along the Amur River, which starts in Khabarovsk and Blagoveshchensk. This tour includes a scenic and natural attractions, and explore the city on the banks of the great river of the Far East.
Cities Far East
The main parking lot of a cruise ship during aTravel - a port city. They tourists go ashore and get acquainted with the memorable places, visit the museum exhibitions and arrange a photo shoot on the review sites. The most important city of the Far East, which will be able to visit during a cruise on the Amur:
Amursk - one of the youngest cities in the FarEast of Russia. Its main attraction - the only botanical garden, which presents more than a thousand species of plants in the province. The city is located and the central manor nature reserve "Bolonsky", which are arranged on the nesting of hundreds of thousands of migratory birds. Dozens of plants found in the reserve, are listed as endangered.
Blagoveshchensk - a town in the Amur region,Founded in 1856 and named in honor of the Annunciation church. It opened the Amur Regional Museum - the oldest in the Far East. In one of the Orthodox churches of the city is Albazinsk miraculous icon of the Mother of God.
Komsomolsk-on-Amur-based unitsPioneer-Komsomol members in the 30-ies of the last century. It is often called "the city of youth," and in the exposure of the local Museum of Fine Arts are unique Chinese folk paintings nianhua.
Khabarovsk, named after the RussianXVII century explorer Erofey Khabarov. From here take cruises along the Amur start at the beginning of which tourists get acquainted with the sights of the city. Khabarovsk Regional Museum - thousands of exhibits, telling about the history and cultural traditions of the region, folk crafts and rituals of its inhabitants.
reviving the tradition
Cruises along the Amur revived in recent yearsvery active. Recently it signed an agreement with China on cooperation in this field, and now there is hope that the trip to the Far East Grand River will be an ideal opportunity to get acquainted with a beautiful corner of the brave and strong people.
Photo