Cruises Lena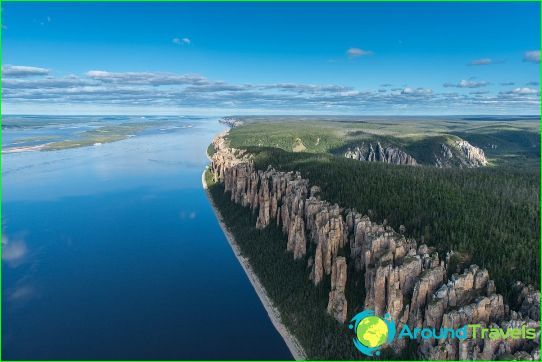 Ten longest rivers in the world closesSiberian Lena, which originates from a small lake a few kilometers away from Lake Baikal. Given its geographical position, should know that the first seven months of the year the river shackled ice shell. But in May in this region begins the flood, and the tourist season starts in June, during which take place on the Lena cruises on comfortable ships. The participants of such trips acquainted with interesting natural and historical sites, hiking on the reserved places, engaged in fishing and learn many interesting facts about the flora and fauna of the Lena River basin.
Yakutsk and its beauty
Start all cruises take Lena in Yakutsk -the capital of the Sakha Republic and the largest city in the permafrost zone. Despite this harsh characterization, in the navigation period in the city can be hot in summer, and the air temperature in July reaches 30 degrees here.
The most interesting exhibits of Yakutsk, in the opinion of the tourists are Mammoth Museum and the Museum of History and Culture of Northern Peoples.
Up Lena
Having studied the present and past of the capital of Yakutia,travelers go on board the ship. Cruise along the Lena continued up the river and one of the first settlements stop the ship becomes Deering Yuryakh. At this point, the archaeologists found a parking place of the ancient people, and allow scientists to challenge the findings of the statement about the origin of humanity in Africa.
In addition to the archaeological site of the cruise participants for Lena visited by tens of points of interest:
The reserve "Lena Pillars", located in the 140kilometers from the beginning of the path. Erosion has created bizarre rock rock formation towering over the banks of the river in the form of castles, towers and columns. The height of some of the rocks up to 150 meters, and the length of the reserve exceeds 80 kilometers.
Being on a cruise along the Lena at the beginning of the summer, you canto meet him, along with the locals Nyuryuhtyaya - village, where bred horses and cattle. Located on the banks of the Lena, the village is famous for its national holidays and traditions of its inhabitants.
Canyon "Lena cheek", through which the cruiseShips held in Kirensk district of the Irkutsk region. The narrow track and a strong current from the command ship requires virtuosity present in the management of the ship and the passengers red rock canyon cause constant delight.
Photo