Diving in the suburbs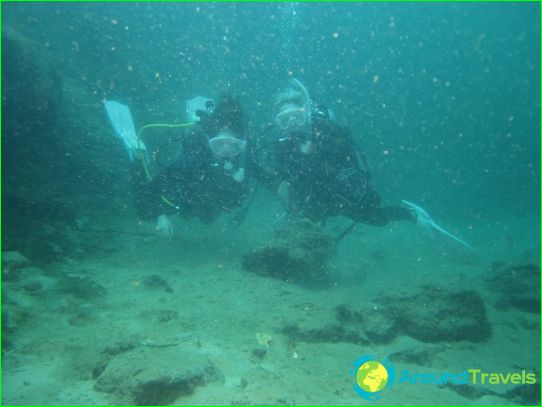 Around the capital of our country, of course, noseas or oceans, where you can admire the coral reefs underwater or entire city. But diving in the suburbs there, and delivers no less than amazing experience than immersion in sea water. Dive with organized year-round ice diving and has many fans.
Spas-Kamensky careers
This dive site near Moscow located near the Moscow Ring Road, just 25 kilometers to Dmitrov highway. The nearby village of Spas-Kamenka and gave him the name.
Where huge deposits were located blackclay mining which lasted until 1991. Then the work was completely stopped and careers began gradually filled with water, turning into a lake. Lots of the local depth - 16 meters, but according to local residents reaches a depth of forty.
Slopes career abruptly go into the depths. When diving at them you can see the flooded birch young. From underwater living creatures - the ubiquitous company and verhoplavki.
Rachy careers
Is this a small lake, known as a Rachy quarry, near the town of Solnechnogorsk. It is about 70 kilometers from Moscow.
The lake water is quite clear, and that is confirmed by numerous cancers, choose a career habitat. In addition to these arthropods are pike, perch, carp, roach, bleak and ruffs.
On approval of the divers, the underwater world of the islandquite beautiful and there is something to see. The maximum depth of the lake - 8 kilometers. In winter, visibility is much better than in the summer, and up to 10-meters. In the summer - no more than three.
Deep Lake
Located in the suburbs of Moscow RegionZvenigorod Deep Lake is a place of passage for many diving training centers. The fact that it reaches a depth of about thirty meters, so only here in all the suburbs, you can complete a full course of study and become certified Advanced Open Water Diver PADI, because in the course of study will certainly have to dive to depths of more than 18-meters. Visibility in summer is 4-m meters.
White lake
An interesting dive will White Lake,located in Egorievske direction. Here, excellent depth, good water clarity and we can say is unique to suburbs bottom terrain, where you can explore the underwater caves a few.
Photo