Traditional cuisine of the peoples of Siberia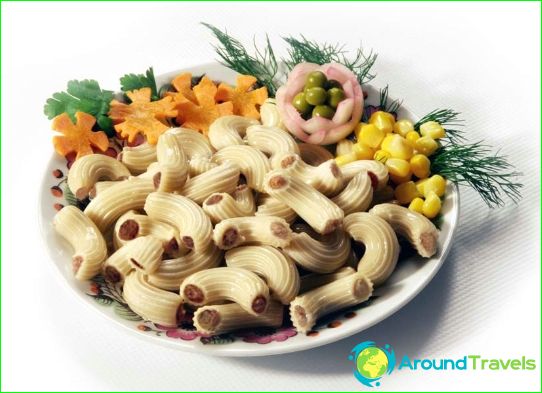 Food in Siberia is characterized by the fact that the local dishes are hearty, nutritious and high-calorie.
Food in Siberia
The basis of Siberian cuisine make meat dishes(Beef, lamb, pork) - here you can taste the stew, fried, baked in an oven or oven, as well as meat cooked on an open fire (worth a try braised pork with cabbage, beef stew with potatoes, patties of minced meat, chops. And if you want you can try corned beef (raw meat, well-salted).
Equally popular in Siberia dishes of offal(Hooves, ears, tongue), of which there are prepared meat soups, soup and jelly. Be sure to try the famous Siberian dish - dumplings, which are then prepared from at least 3 types of meat.
With regard to fish, and then out of it prepared in Siberiavery tasty dishes - here you can try boiled, fried, baked, dried, steamed, pickled, dried fish. If you decide to try the Siberian delicacy, always give preference to dishes of salted fish - omul (it is found in Lake Baikal).
In Siberia, like to cook cakes - here you certainly will treat pies with meat, fish, vegetable or berry filling.
Where to eat in Siberia? At your service:
cafes and restaurants;
pizzerias and snack bars;
Fast food places (street kiosks, network fast food restaurants).
Drinks in Siberia
Siberians are a popular drink tea, cranberry and cranberry juice, sbiten, intoxicating honey vodka.
Gastronomic tour in Siberia
As part of a gastronomic tour to Siberia, youZorkaltsev can visit the village - here you will visit a real Siberian village hut, eat local delicacies, look at the performances of local folk ensemble, as well as taste the local brandy and delicious liqueurs (pepper vodka, Cranberry, Hrenovushka, Kalinovka, Brusnikovka).
If desired, you can arrange for the night in the guest house, inviting you to visit the Russian smoke sauna where you can warm up with birch switches.
Actively began to develop gastronomictourism in the Altai Territory - gone here, you get to know the gastronomic culture of peoples who live in the area (you can try, for example, Russian and Kumandin kitchen).
Arriving in Siberia, you will visit the amazing snow-covered and the edge, where you can experience for yourself the hospitality of the locals and taste incredibly delicious with a unique flavor of the taiga.
Photos national Siberian meals