History of Irkutsk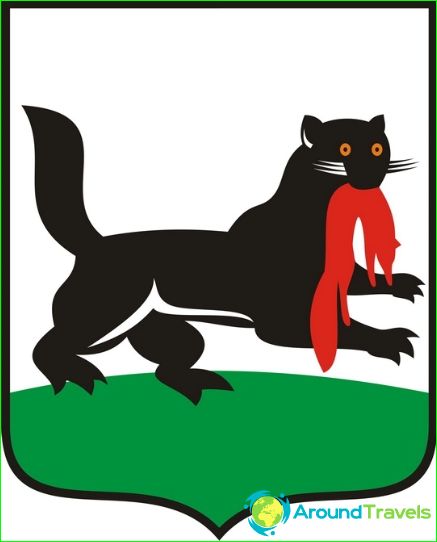 Irkutsk Coat of Arms
The city of Irkutsk has its origin from the prison,pledged in 1661 on the bank of the Angara River where it meets the river Irkut. The basis of Irkutsk fortress preceded Russian output to Baikal in 1643. Jail was built to store weapons, ammunition and goods to trade with the Buryats.
By its geographical position IrkutskI was on the great historical path that ran from the Ural Mountains to the Pacific Ocean. Such a prime location contributed to the rapid growth of the city and in 1764 became the main city of Irkutsk province, and in 1828, when the disengagement of Siberia two governor-general, Irkutsk became the center of the East-Siberian governor-general.
Distance from the main Russian marketsunderdeveloped road and waterways for years allowed to keep wholesale trade in the hands of local merchants. Furthermore, 1728-1792's. in the city housed the customs and the whole caravan trade with Mongolia and China carried out through Irkutsk. The city played an important role in trade and fisheries to the coast and the islands of the Pacific Ocean. Irkutsk quickly prospered and in 1799 the Russian-American Company was established on the initiative of local merchants.
At the beginning of the XIX century on the river Lena was foundgold Irkutsk and is fast becoming one of the centers of the gold mining industry. In 1898 the first train on the Trans-Siberian railway, in connection with which the city had new industrial and transport companies arrived in Irkutsk, revived coal mining.
Thus Irkutsk for a long time, speaking at the historical arena as the largest in Siberia, the administrative and commercial center. It left its mark on the history of the city and its culture.
A terrible disaster for the city fire, soas the building of the city consisted mainly of scrap wood. But gradually in the city there are stone buildings - churches, monasteries, administrative buildings and homes of the rich merchants.
The cultural importance of Irkutskacquired the appearance of the city exiled Decembrists and their families. Public sympathy for the exiled government forced them to settle in small villages and hamlets of the Irkutsk province. But living in the city a few highly educated individuals and their families left a deep imprint in the memory of the urban population. In 1890 in the city stayed AP Chekhov, the city he loved, he called it "intelligent city".
The twentieth century brought great changes to Irkutsk: Revolution, Civil War, World War II, Stalin's repressions - all this does not help to improve the lives of ordinary citizens. The city remained a one-story wooden and. Only in the 70s it began a large-scale urban and industrial construction. Now Irkutsk - a major tourist, industrial and scientific center of East Siberia.
Irkutsk Photo
Irkutsk Coat of Arms

Irkutsk Kremlin in 1735

The Great Fire of 1879

Lower Quay Angara

Epiphany Cathedral

Irkutsk Regional Museum

"Lace House" Shastins