How to fly from Khanty-Mansiysk to Moscow?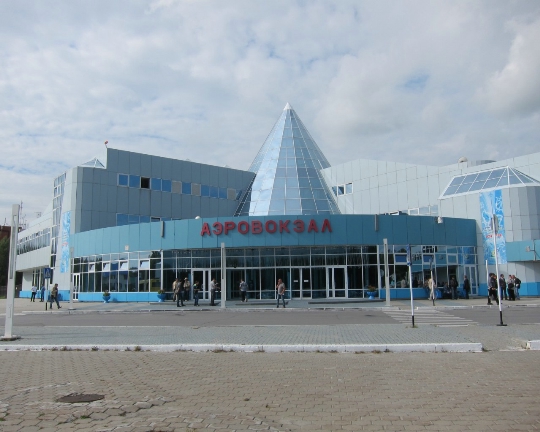 In Khanty-Mansiysk, you could admireChurch of the Intercession of the Holy Virgin, to see the monument to Prince Menshikov, spend time in the video-center, "Archeopark" entertainment complex "Langal" visit the house-museum of the artist Igoshev, go to the park "Samarovsky Chugas" learn a lot about indigenous peoples (Khanty and Mansi) in "Torum-Maa", fishing on the Ob river? And now is the time to think about the departure to the homeland?
How to fly from Khanty-Mansiysk to Moscow (direct flight)?
Khanty-Mansiysk is removed from Moscow 1,900 km (forreturn home, you will need more than 3 hours). Thus, airliners "Utair" domchat you to "Vnukovo" exactly 3 hours, and "Transaero" - to "Domodedovo" in 3.5 hours.
You do not know how much it will cost you a trip to Khanty-Mansiysk - Moscow? You will be asked to pay for their 6400-9800 rubles (low prices typical for April, October and September).
Flight Khanty-Mansiysk - Moscow with transfers
The flight to the Russian capital can be implemented with changes in Yekaterinburg, Tyumen, Surgut, Baku, Novosibirsk and other cities.
If your main air carriers will"Utair", then on his aircraft you will realize the flight to Moscow in Nizhnevartovsk (total duration of air travel - 11.5 hours, waiting dock - 5 hours), St. Petersburg (the path to the house takes 23 hours, the waiting will have to spend 17 5 hours) and Surgut (on the way you spend 16 hours and waiting - 11 hours). If desired, you can fly home with a stop in Ufa ( "Gazmpromavia", "Yamal"), then the path to the "Vnukovo" will take 29.5 hours (waiting dock - 16.5 hours).
Selection of the airline
Resorting to the services of one of the following:airlines, you can fly from Khanty-Mansiysk to Moscow (waiting for your trip to Alenia ATR 72, Antonov AN-24, Canadair CRJ, Airbus A 319 and other aircraft): "Yamal Airlines"; "Utair"; "Transaero"; "Turkish Airlines".
Sign up for a flight Khanty-Mansiysk -Moscow serves the airport "Khanty-Mansiysk" (the HMA), located from the city center 5 km (travel services - bus number 5 and 6, bus number 15). Here on the movement of aircraft you will learn through visual and voice information. In addition, travelers at the airport will be able to use free internet, luggage storage, café-bar service "Falcon" and the post office.
What to do in an airplane?
In flight, it is worth thinking about who give gifts, bought in Khanty-Mansiysk, in the form of Irtysh sterlet and herring, products from wood, fur, leather, beads, and birch bark, traditional dolls Khanty.
Photo