How to fly from Surgut to Moscow?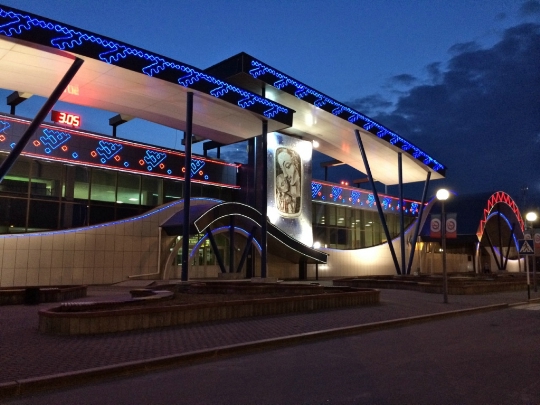 Surgut you saw, and the temple of the TransfigurationSurgut Bridge, sat on "the bench Lovers" (alley Gazovikov), visited the cultural and historical center of "Old Surgut" (winter in the complex you can spend time on is building here Ice Park), sauna complex "Pine Forest" and the park Geologists and We were also able to go tubing, ride on a colored skating, snowboarding and skiing in the ski complex "Stone cape"? But before the flight left a little time and you need to know how many hours you spend on the road?
How to fly from Surgut to Moscow on a direct flight?
To fly from Surgut to Moscow (2100 km) takes about 3 hours.
Aircraft owned by "Utair" will take you to Moscow, a little more than 3 hours, and "S7" Airlines planes you get to the house for 3.5 hours.
The average price of tickets from Surgut to Moscow - 8300 rubles. And at a price affordable tickets sold in April, March and May (the cost may be 3600-3800 rubles).
Surgut-Moscow flight with transfers
Connecting flights (transplant done in Ufa, St. Petersburg, Yekaterinburg, Tyumen) lasts an average of 7 to 11 hours.
A popular carrier in this directionis "Utair" - it offers its passengers fly in "Vnukovo" through Tyumen (your air travel will last 7 hours), Ufa (in the way you will spend almost 8 hours), Kazan (the path will take 10.5 hours to the house).
Selection of the airline
Go on a flight you can aboard ATR 72, Boeing 737-500, Airbus A 321-100, Canadair CRJ, Boeing 737-800 Freighter and other aircraft, which are available to the following airlines:
- "S7";
- "Yamal Airlines";
- "Taimyr Airlines";
- "Aeroflot";
- "Ural Airlines".
Registration on a flight from Surgut to Moscow will take placein "Surgut" airport (SGC) - it is 9 km from the central part of the city (here go buses number 22, 50, 21, bus number 33, 20) and offers travelers use the services of storage rooms, medical center, ATMs, post office , exchange office (working hours).
While waiting for the flight, you can visit the mother and child room, to order in a restaurant or a snack in the cafeteria, go shopping duty free, to get the colors in a specialized boutique.
What to do in an airplane?
In flight, you can check out. And if you are afraid to fly, you should be advised to close their eyes and visualize what souvenirs bought in Surgut (salted and smoked delicacy fish whitefish roe of vendace, pine nuts, berries, cranberries and cranberry, cone oil, wood, bark, beads and fur, felt shoes, Khanty dolls), you give to family and friends.
Photo