Children's camps in Cheboksary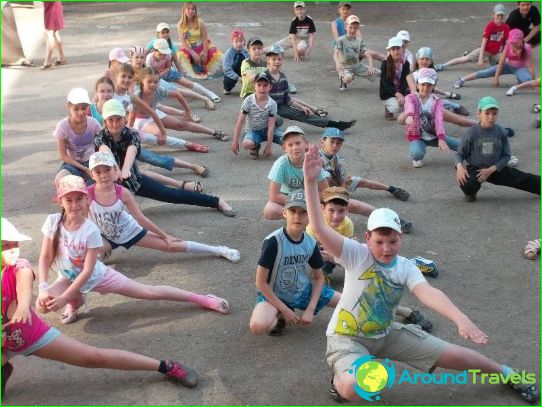 In the capital of the Chuvash republic - Cheboksary - operate camps for children of various types. Total in Chuvashia there are more than 18 health camps and 2 sanatorium for children.
What attracts holiday in the children's camp
Kids Camp offers special programsuseful for leisure, recreation and health of schoolchildren. Usually they are realized during the summer holidays. Children's camps in Cheboksary pursue the main goal - the cultural and educational development. Institutions can be divided into several types:
Improving children's camps. They are located in ecologically clean areas, outside of the village. This camp can be a standard, offering accommodation in stationary housings or cottages. Very often, health camps are tent.
School camps, which are organized on the basis ofeducational institutions of the city. This is a common type of children's camps. According to the purpose they are similar to kindergartens, but they are the children of 7 to 16 years. School camps operating in the daytime. Some work in the morning before lunch, while others - from morning to evening. While vacationing in the institution of this kind, students attend excursions, clubs and sports facilities. They are under the supervision of counselors and teachers, and walk on the school grounds.
What features has the vacation in Cheboksary
On the territory of Chuvashia prevailsa temperate continental climate. The terrain is flat, so the air masses freely penetrate to the northern lands. Cheboksary summer is warm enough, so stay in the camps is not marred by bad weather conditions. Camps are located close to the city, take the children from many Russian cities. Come here students from Nizhny Novgorod, Yekaterinburg, Moscow, Ukhta, and Syktyvkar.
Children's camps in Cheboksary enablequality rest and improve your health. The guys are all day in the open air, in the camp. They left the camp only during guided tours. Cheboksary has many historic sites. There are buildings constructed in the past centuries, beautiful temples and churches. The most famous piece of architecture is Vvedensky Cathedral. This is the most ancient temple in the whole country. Vvedensky Cathedral was laid in accordance with the decree of Ivan the Terrible. Children like to visit the Square Chapaev - a unique place in Cheboksary. He placed on the site of the village Budayki - native place Chapayev. Of interest of the city is Cheboksary Bay. Cheboksary - it's incredibly attractive city, located on the Volga River. It is surrounded by greenery, as there are many parks and forests.
Photos of children's camps in Cheboksary