Children's camps in the Lipetsk region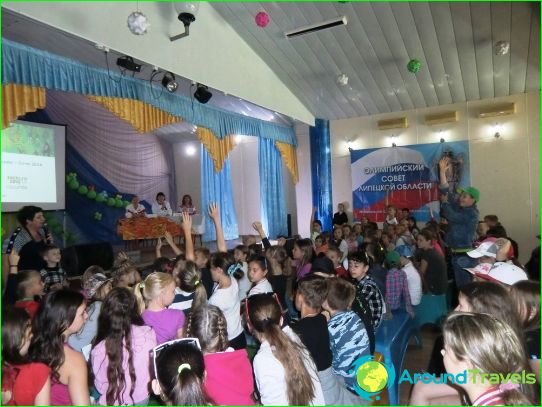 In Lipetsk region there are children's campsdifferent profiles. They are designed for rest and recovery schoolchildren aged 7-15 years (inclusive). Children's health camps are divided into groups of 15-20 people.
Characteristics of health camps
Children's camps in the Lipetsk region are located in thepine forests and on the banks of the Don. The environmental situation is very favorable there, that has a positive effect on people's health. The program is widely used such institutions bathing children in natural bodies of water. In this children's paddling area located at least 500 m upstream of the camps, descent place drains.
Choosing a place for swimming, the organizers payattention to the possibility of sudden force majeure:. shore collapse, landslide, swirl, output ground cold water and other beaches for swimming in the camps are well-lit area, sheltered from the wind, without pits and cliffs. The depth at the site is a maximum of swimming 1.3 m. Each beach provides station rescuers and medical center. If the camp is unable to make a natural beach, the children go to the pool. Besides bathing children offer exciting entertainment. Theme events is largely determined by the specifics of the camp.
What attracts holiday near Lipetsk
Lipetsk region was formed in 1954 It occupies a small area, but it is a tourist center of Chernozem. In the area in 2006, the special economic zone of tourist-recreational orientation were formed: "Zadonshchina" and "Elec." They are famous for their picturesque landscapes and architectural monuments. Lipetsk region has other attractions. Holidaymakers are attracted by the natural resources of these lands. There is a reserve "Galichya Mountain", where relict plant. Along Don stretched sandy beaches and pine forests.
Today in the field of eco-friendly placesoperating sports facilities, amusement parks and recreation centers. A real paradise for fans of outdoor activities is Eletskii area. Near the village Trubitsin on the river Fast Pine, collected water tourists. Here, every year there are competitions in rafting. Center for youth and children's tourism operates in the village Argamach-pal. There is organized trail with difficult climbs and descents. For lovers of horse riding was created Estate "Old Mill" in Golikova. Excellent reviews have children's camps in the Lipetsk region, specializing in sports areas. They invite children to get involved in sports. Trainings are held in the open air, which has a favorable effect on the child's body.
Photos of children's camps in the Lipetsk region