Children's camps in the Nizhny Novgorod Region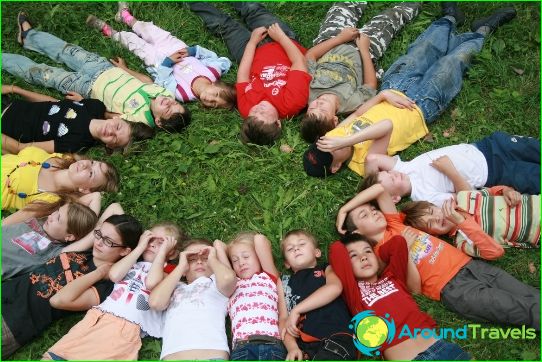 Nizhny Novgorod region - a "jewel" of the Volga region. Its advantages - the forest, the river - the Oka and Volga, the ancient city, famous places and religious shrines. Climate Nizhny Novgorod region causes a short but warm summers. Therefore, during the holidays there are all conditions for recreation and leisure activities for children.
How are children's sanatoriums and camps
Almost every children's camp in the Nizhniy Novgorodthe area has a well-maintained beach on the banks of the Volga and Oka. Children can swim almost all summer, enjoying the warm water and gentle rays of the sun. In the Nizhny Novgorod region has a temperate continental climate with long winters. Health camps are functioning in the period of winter holidays, offering the children exciting program of outdoor activities.
Today in the region there are more than 60country camps that specialize in the rehabilitation of children. Most of these institutions takes the children in the summer season. Camps differ by the level of material security. Among them there are options, preserved since Soviet times - with facilities on the street and a large number of children in one case. Newer institutions are comfortable facilities, adapted to the needs of children.
In addition to the camps parents send their children tospecialized sanatorium. Very popular resorts such as "Sunny Meadow", "Gorodets", "Big Yelnya" and others. They take visitors all year round. Besides health treatments out there can learn the school curriculum.
How to choose a camp for your child
Choose a good children's camp in the Nizhniy Novgorodregion - this is not a problem. Each such agency is developing several unique programs for the organization of children's activities. Children during the holidays acquire new knowledge and skills. They learn English, make movies, visit museums, go hiking. Some camps implement original projects. For example, in the "canape" Camp has developed a special program just for girls 6-11 years old. They are introduced to the basics of cooking and etiquette. Young girls engaged in acting, dancing and fashion shows. They offer workshops on hobbies: cooking chocolate, weaving ornaments from beads and TD Another well-known summer camp is located on the reserve "Shavskaya slide Kadnitsy". It successfully combines a fascinating vacation with rehabilitation.
Photos of children's camps in the Nizhny Novgorod Region