Children's camps in the Novgorod region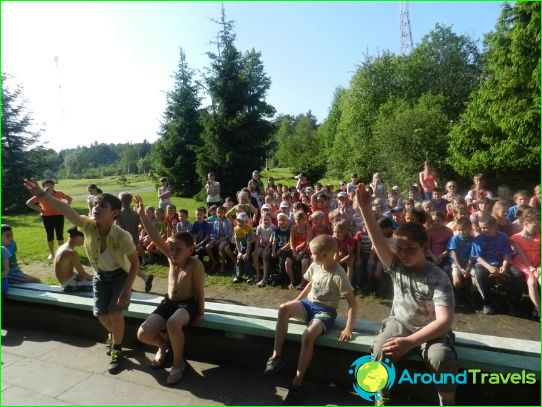 By the beginning of the summer school holidays in Novgorodfield start working children's health institutions. Altogether there are over 450 camps and sanatoriums. Of these, 15 children's camps are countryside. In addition to these pupils are invited profile and campgrounds, institutions with day stay, as well as labor camps and recreation.
What attracts holiday in Novgorod Region
Centre area is the city of Novgorod the Great. This is one of the oldest Russian cities, which are actively developing the ancient Russian art, crafts and architecture. Children's camps in the Novgorod region - this is a unique opportunity to learn about ancient Russian culture. Local attractions are interesting to children and adults. Students with great pleasure visiting Novgorod. It is a beautiful city-museum. On its territory preserved many monuments of monumental art and architecture. Also Veliky Novgorod interest are places like Borovichi, Valdai, Rousseau and others. Tourism in the area is developed very well. Come here people from all over the country to look at the beautiful nature and historical monuments.
The administration pays close attentionChildren's holiday organization. Pupils arrange hiking and sightseeing tours. Studying the history of the Novgorod region and examination of unique natural objects - is the main direction of the children's tours. Previously, under the authority of Novgorod were the Gulf of Finland, Neva and Ladoga. Land of Novgorod extended to the Urals in the east and to the White Sea in the north. Today Novgorod region occupies a small part of the Novgorod Republic, which existed prior to 1478 most famous treasures of this earth: St. Sophia Cathedral, Novgorod Kremlin, Yaroslav Court and others.
What are children's camps there in the Novgorod region
Novgorod region has a good location -between Moscow and St. Petersburg. The local health camps for children coming from these major Russian cities. Good health centers and health institutions are located near Lake Seliger, as well as on lakes near Valdai.
Children's camps in the Novgorod region guaranteeinteresting vacation for pupils aged 7-17 years. He won great popularity Adventure Camp at Valdai - "Island of Heroes". Organizers use a combination of the classical tradition of camps with the latest technology. Children are engaged in sports tourism, learning to walk on a kayak and kindle fires. They built high ropes course, climbing wall, and other entertainment.
Photos of children's camps in the Novgorod region