Children's camps in the Omsk region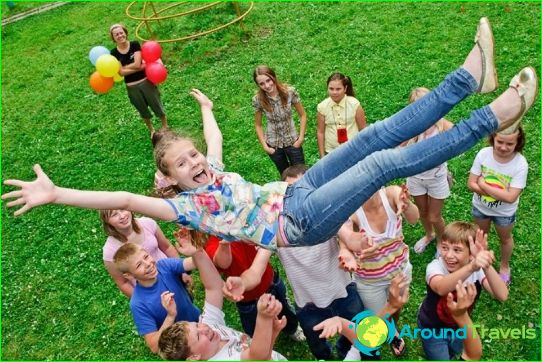 By the beginning of the summer holidays many camps open for pupils of the Omsk region. The children are waiting for the tent, country, specialized camps and institutions with day stay.
How to choose a camp
In the Omsk region there are 47 camps, including19 are located in suburban areas. On the basis of many children's camps organized by the change of profile preparation that allow all who wish to study subjects of interest (science, foreign language, etc..). Children's camps in the Omsk region offer specialized units to children: sports, art, environmental, labor. When schools open camp, suggesting day stay. Many students in the summer of rest in the institutions of this type.
The most popular are the campgrounds. The most famous in the area are considered "Sunny" and "Zurbagan". In these camps, children get acquainted with the nature of their native land, acquire hiking skills and learn to live independently. They put up tents, bonfires, cook them a meal, and so on. D. This summer vacation attracts fans of extreme sports. Educators and counselors campgrounds organize exciting leisure: conduct contests and competitions for the development of ingenuity, endurance and other qualities.
If you are interested in a comfortable camp,then pay attention to improving suburban institution. They offer a full range of services for children's holiday: comfortable rooms, good nutrition, educational excursions. Life in the camps is full of a variety of children's games and activities. The list of the most famous camp area consists of the following institutions:. "Friendly Children", "Anniversary", "Birch", "Russian Forest", etc. Children's camps in the Omsk region offer a change of duration 18-21 days. The "Birch" camp has 5 shifts, the latter begins in mid-August.
What attracts holiday in Omsk Region
The climate is continental, with shortin summer. Omsk region stretches in the south of the West Siberian Plain. From the west it is closed the Ural Mountains, and from the east - the East-Siberian Plateau. But from the south and the north of the region is almost not protected. So here are invading cold air flows from the Arctic and warm air masses from the steppes of Kazakhstan. As a result, weather Omsk region unstable. The advantage of the area - the existence of a large number of mineral and thermal springs and lakes rich in silt and sapropel mud, brine and brine. There are a lot of sanatoriums and health camps, which were known in Soviet times. They are now offering high-quality service, care and interesting vacation.
Photos of children's camps in the Omsk region