Children's camps in the Orenburg region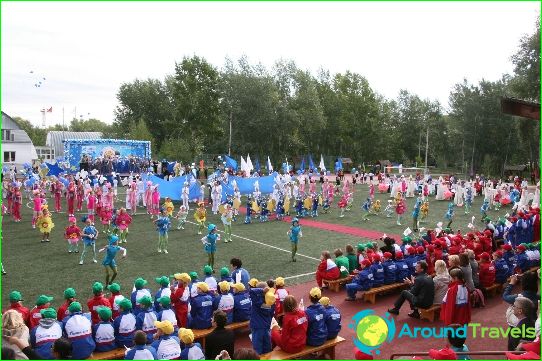 In the Orenburg region during the summer holidaysIt operates more than 1,100 children's health institutions. They provide a complete rest and recreation for pupils 7-16 years. During the summer camps have time to visit more than 55 thousand children. Among the most popular children's institutions are camps with day stay. In the region there are more than 900 such camps. Apart from these, there are also 24 sanatorium camps, 19 camps and 6 children's sanatoriums. Vouchers for children's camp in the Orenburg Region there and the winter holidays. For the guys opened the doors of such camps as "Forest Fairy Tale" in Orsk, "Falcon" and "Summer Lightning".
Features vacation in summer camps
Children's camps in the Orenburg regionprovide decent and safe rest. Attention is directed to the administration of matters relating to the organization of transport of children, fire insurance students during their stay in the camps. Particular attention is paid to the training of teaching staff (managers, educators, counselors). At the expense of the regional budget, many children receive vouchers to camp, located near the Black Sea and the Sea of ​​Azov.
Local camp successfully compete withwellness institutions, which are in other parts of the country. Orenburg region famous for its beautiful nature. Fresh air and picturesque landscapes - these are the advantages of rest in summer camps Orenburg. Where a sufficient number of dense forests, which are home to moose, wolves, wild boars, hares, foxes and other animals. The main rivers of the region are considered to be the Urals and Sakmara. On the banks of the rivers are pebbly and sandy beaches.
The children are doing on vacation
Children's camps in the Orenburg region implementinteresting recreation program. Many institutions operate from the Soviet era. They have tried and tested the base, which successfully combine the latest techniques. Near Orenburg a large number of health centers, many of them are among the best children's Russian camps. Equipment and infrastructure facilities allow you to organize a useful, safe and fun vacation.
Camp in the Orenburg region, you can visitwinter and summer. In warm weather, they offer sports entertainment in the stadium, a basketball or volleyball court. During the winter holidays, children skiing and ice skating. Each camp runs a ski rental, and an ice rink. Year-round students can visit the sports complex, swimming pool, gym and billiards. Some health camps children can combine leisure with learning.
Photos of children's camps in the Orenburg region