Children's camps in the Ryazan region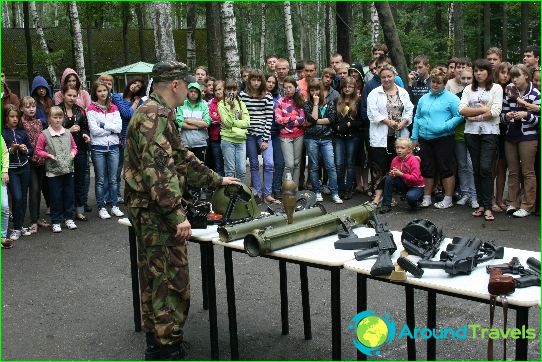 The Ryazan region employs more than 28 children4-of-town camps and camps of sanatorium type. They all offer a safe and comfortable living conditions for the students. Every year in the camps of the Ryazan region is resting more than 12 thousand children. This area is a part of the Central Federal District. Ryazan is located near the capital. Therefore, Moscow schoolchildren are frequent guests in Ryazan camps and sanatoriums.
Organization of children's holiday camps in Ryazan
Each institution thinks the organizationchildren's activities in detail. Much attention is paid to educational and educational work, which provides for the operation of creative clubs, hobby groups, workshops, conducting entertainment and sporting events. Children's camps in the Ryazan region include not only high-quality rest, but also excursions to local attractions. In Ryazan land has a lot of interest. There are about 1200 monuments and more than 2,000 archaeological sites. Ryazan is the birthplace of many famous people. These include the Saltykov-Shchedrin, Yesenin, Tsiolkovsky, Solzhenitsyn, Michurin and others. The children visit the museum-reserve Konstantinovo, History Museum of airborne troops, Ryazan Kremlin, farm with exotic birds and other places.
Choosing a camp in Ryazan
Many of the camps are located in the resortRyazan region. Excellent area is considered the area around the village Vypolzovo. Camps take eco-friendly area on the shores of scenic Lake Selnoe. Recreational facilities for children feature spacious and comfortable residential buildings. Infrastructure Ryazan camp is very well developed. For children sport and dance floors, conference rooms, library and tennis courts.
Some children's camps in Ryazan regionIt specializes in rehabilitation. They are ideal for students with poor health. Therapeutic programs are composed of institutions so that the recovery does not look like hospital conditions in them. Children can fully relax, performing the prescribed procedures specialists. For children who have any hobbies, theme camps are suitable. In the Ryazan region has the artistic direction of institutions that specialize in certain interests. Parents can choose the best option from a wide range of interesting programs. In addition to studies on the subject selected students in these camps are involved in recreational activities.
Photos of children's camps in Ryazan region