Children's camps in Ulan-Ude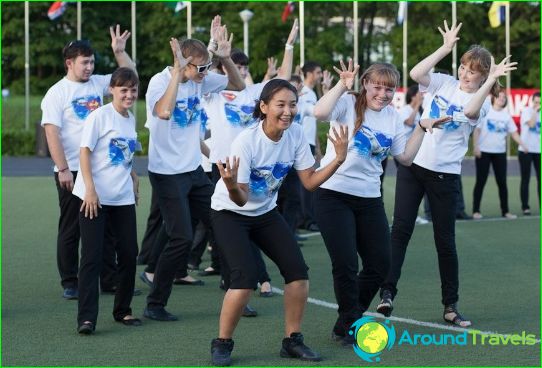 Rest of children in Ulan-Ude presented popularleisure activities and rehabilitation, organized children's recreation facilities. The main view is considered in the improvement of school health-improving children's camps of the city:
DSOL "Baikal Forest", close to the lake Kotokel;
DSOL "Edelweiss" in Tunkinsky area;
RK "Health" in Ivolginsky area.
These institutions invite children to rest at anyseason. Children's camps in Ulan-Ude accept applications from residents of the Republic of Buryatia, who are parents or guardians of children and work at the enterprises of Buryatia, as well as abroad. The form of ownership of the enterprise and industry affiliation do not matter. It accepts children from 7 to 15 years. The facilities are completed with a group or groups, depending on the age of the campers.
How much will a ticket
The average price for 1 minute shift (21 days) is16300 rubles. Parents who work, pay 10% of the tour price. In DSOL "Edelweiss" and DSOL "Baikal Forest" voucher worth about 20 thousand rubles. Of this money, 15,200 rubles from the republican budget is. About 4,700 rubles underpaid by their parents, trade unions or employers. In addition, the cost of travel to the camp "Edelweiss" and back is 1400 rubles. After receiving a ticket, parents are obliged to collect the medical certificates required sanatorium camp. Doctors noted the high activity of ticks, so before the trip to the camp, it is desirable to make protivokleschevye child vaccinated. It is also recommended to think about the health insurance and the child's life.
Sanatorium and health camps inUlan-Ude organize wellness treatments and training. Due to this students can continue their education in some subjects, resting in the camp. The exception is during the holidays.
The camps with day stay
After the end of the school year in the schools of the citybegin work camp day stay. They usually operate until the end of June. In order to arrange the child in a camp, parents take vouchers from the class teacher. To working parents means a child's holiday highlights budget. Day camps offer students meals. There are camps that organize naps for younger students. Leisure travelers includes a lot of interesting events. The children go to museums, theaters and exhibitions.
Stationary health camps accept children from June 15. On the balance of Ulan-Ude today is more than 10 institutions of this type. it is necessary to advance Take a trip to a country camp.
Photos of children's camps in Ulan-Ude